Focus on Dvořák - svahové sekačky s.r.o.
4 avr. 2016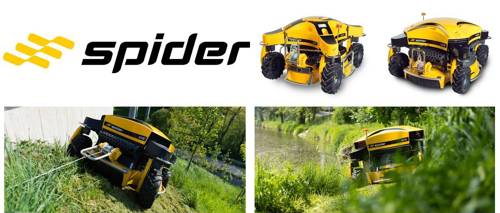 Dvořák - svahové sekačky s.r.o. was founded on 1 July 2004 by Mr. Lubomír Dvořák. The patent protected radio controlled slope mower Spider is the dominant product of the company. 
Jan Formanek joined Dvorak, who are based in the Czech Republic, in 2006 as Sales Manager. Before this he was involved in the film industry as a Production Manager. One of the things that Jan does like to do when not at work is mow his lawn which is good when working in the turfcare industry!
So why did Dvorak choose Kawasaki Engines?
Dvorak specialise in designing and producing commercial radio remote-controlled mowers for steep slopes and inaccessible, contaminated or dangerous areas. The Spider ILD01 and ILD02 are equipped with Kawasaki Engines because the benefits of using these include:

The ability to operate on slopes up to 55 degrees on a daily basis with heat and dust.
During long-term tests the engines outperformed competitive products in reliability, operation in incline and fuel consumption.
Jan said that 'choosing Kawasaki Engines for their Spider products was a great decision, not to mention their superb worldwide aftersales support network'.
Best-selling model
The Spider ILD02, first introduced in 2006, is powered by the Kawasaki FS691V 20.6hp engine. This Spider mower features:

4 rotary blades at a 123cm cutting width
55 degree climbing ability and 360 degree steering
4 wheel forward/reverse drive
Integrated stabilising hydraulic winch and fully remote control operation.
The ILD02 mower is the most versatile in the market and can deliver a fine cut as well as handle heavy brush mowed once a year. As the mower is remote controlled this results in comfort and operator safety at the highest level!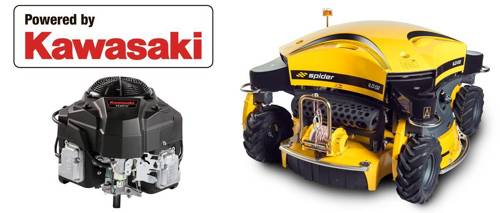 Company future plans
In 2015 Dvorak opened a new production facility in Pohled which has helped to increase the productivity of work and focus on boosting sales. In 2018 and 2019 the Spider will be introducing a new generation of the current key models (ILD01 and ILD02) both which will be fitted with Kawasaki Engines.

Click here to find out more about their organisation.
Want to feature in the next issue of The Core News?
Simply click here to answer a short set of questions and we will be in touch if you are chosen for the next edition.