Focus on ROM Avivim Agencies Ltd
30 set 2015
Focus on ROM Avivim Agencies Ltd
ROM Avivim was formed in 2004 by brothers, Oz and Rafi Melamed, and has grown into a thriving business in Israel. 
In their product portfolio they manufacture and import products which range from lawn mowers, blowers and ride-on-mowers to professional gasoline equipment including flush machines, accessories and many more. Because of the earlier success with Kawasaki branded products they decided to develop their own Jasper brand product range.
Challenges over the past 12 months
They have had many challenges which included the pricing of the competition but they know how to overcome this by focusing on the quality of their products. The company makes a great effort to develop high service standards without compromise. Their motto is continuous development and diversification of the product portfolio to help their resellers "run faster and better".

Best Seller Powered by Kawasaki
The Jasper generator JKG-3500 powered by the FJ180D engine.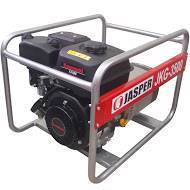 5 year goal
Continue to diversify the Powered by Kawasaki product portfolio and launch high pressure washers, water pumps and a large sprayer.

Why ROM chose Kawasaki?
'Because of the nature, strength and new and modern design of the engines.'