Swardman choose Kawasaki FJ100D for international mower launch
18 mai. 2017
FJ100D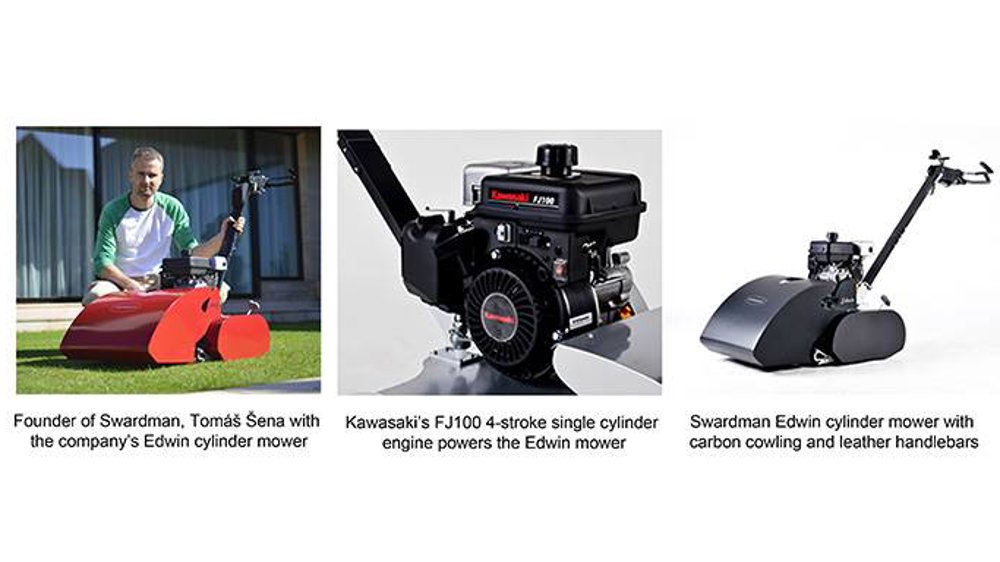 Czech manufacturer Swardman have launched their unique Edwin cylinder mower, powered by Kawasaki's FJ100D 4-stroke petrol engine, to the international market for the first time.
The move follows two years of strong sales in Central Europe for Swardman and investment in a new production facility, following Edwin's introduction to the Czech Republic in October 2014.
Founded by Tomáš Šenain 2013, Swardman's mission is to build the best lawn mower in the world for home use. The Edwin is the result of Tomáš's life-long passion for perfectly cut lawns and followed two decades of experience in the turfcare industry.
"My early experience as a greenkeeper and then as a dealer for two British lawnmower companies taught me how to grow and maintain the perfect English garden lawn", comments Tomáš. "We started developing mower prototypes in 2011, putting this experience into practice and with the sole aim of helping everyone who wants to achieve a perfect lawn."
The resulting Edwin mower offers a precision cut, easy operation, minimal maintenance costs and a level of personalisation rarely seen in the domestic lawncare market – even down to a choice of over 200 powder coated paint finishes, leather handlebars and carbon fibre cowling. "We strive to develop and produce precisely manufactured and personalised mowers" continues Tomáš, "We are probably the only lawnmower maker which allows customers to configure the mower according to their wishes". 
Part of Swardman's precision development was their choice of Kawasaki's FJ100D 4-stroke single cylinder petrol engine. Introduced to the company by Kawasaki Engines Czech Distributor Asko KC, the professional quality engine was chosen for it's perfect size to power ratio for Edwin's requirements. "Kawasaki's renowned reliability, easy starting and low noise levels also convinced us that the FJ100D was right for us", adds Tomáš, "We can now proudly say that Swardman produces the quietest lawnmower on the market, something that is widely noted and preferred by our customers."
Commenting on the collaboration, Richard Harris, Business Development Manager at Kawasaki's European Engine Division added, "We are proud to power such a superbly engineered product – in design as well as in looks. Congratulations to Tomáš and the rest of the Swardman team for bringing such an original product to the lawncare market."
The Edwin mower can be configured and purchased from Swardman's website www.swardman.com where the company also sell accessories and provide tips and advice for lawn keeping. All mowers are shipped for free within Europe and customers can book a free demonstration in their garden by a local representative as well as find their closest Swardman partner for after-season servicing.