Kawasaki Engines and Spider look back on 15 years of remote mowing
31 März 2017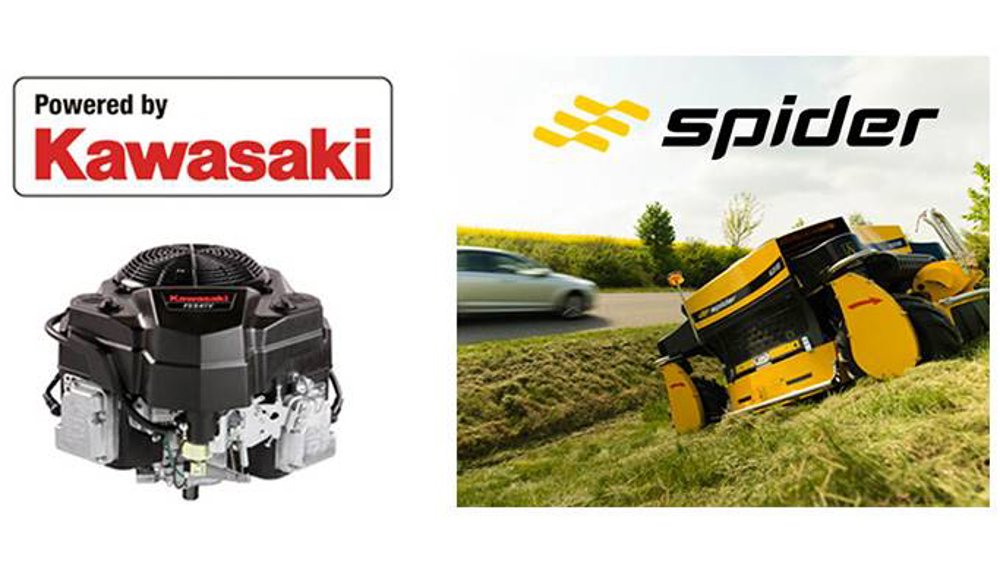 Today the option of remote controlled mowing for hard-to-reach or hazardous terrain is well established. Back at the start of the millennium this was certainly not the case. Professionals faced with steep inclines simply had to do their best with conventional technology, or at worst employ dangerous practices to ensure hillsides weren't neglected.
That all changed 15 years ago thanks to the vision of Lubomir Dvorak founder of DVORAK –svahove sekacky s.r.o., the Czech company who created Spider mowers. It was Lubomir's invention of the first remote controlled mowers designed to cope with steep slopes and uneven terrain, that introduced a new, and more importantly safer way of working to groundscare professionals.
 "In the beginning it wasn't as easy to open minds to the idea of the Spider as you might think", comments Lubomir. "Ideas of how mowing should be done were very entrenched. However, once they saw the manoeuvrability of the mower and ease of remote operation, the benefits became clear".
Since the start of production in 2004 Spider have chosen Kawasaki Engines to power their professional grade mowers, the ILD01 and ILD02. This year Kawasaki Engines celebrate their own milestone of 60 years of engine production, and their collaboration with Spider remains one of which they are particularly proud.
"We have huge respect for what Lubomir and his team have developed. Not only did they create a pioneering product, but their continual commitment to technical innovation, state-of-the-art design and high quality components means that they have remained at the forefront of their market and deservedly developed a reputation for one of the most innovative groundscare companies in the world" comments Jack Ford, Senior Product Manager at Kawasaki Engines Europe.
Lubomir is equally complimentary about the power solution provided by Kawasaki's FS541V and FS691V currently fitted in the ILD01 and ILD02 respectively. "Kawasaki's FS engines are built for durability and reliable performance day in, day out. This is important for the demanding environments that our Spider mowers are expected to work in", says Lubomir.  "Low fuel consumption and high torque are vital for us, as well as the ability of the engines to perform at steep operating angles.  A key feature of our Spiders is that they can mow on inclines of up to 55 degrees using the integrated hydraulic winch. This gives us a market-leading advantage and Kawasaki's pressurised lubrication system allows this to be possible."
Kawasaki are keen to credit the efforts of their Czech Distributor Asko KC s.r.o. in developing the relationship with Spider in the early days. "The team at Asko had a huge part to play in Spider's development at the beginning and in finding the best engine solution for the product" adds Jack Ford. "Months of testing were carried out by them to ensure that all parties were 100% happy with the engine fitment. It is thanks to the efforts of Asko that we are all working together today."
With such a successful 15 years behind them, what is next for Spider and their collaboration with Kawasaki Engines?  It seems Lubomir Dvorak is not one to be content with past achievements: "We will continue to innovate and expand", he says, "In the last five years we have made 127 innovations to the current mowers and we continually look for ways in which we can develop our products. We have also seen significant growth of our Distributor Network so that we are now sold in 40 countries worldwide. Supporting our Network to provide the best possible service for end customers is key".
Innovation, expansion and support are concepts echoed at Kawasaki who have also expanded their Distributor Network over recent years and now have full coverage across Europe, as well as Distributors in the Middle East and South Africa. Neither has their engine technology stood still: "We are now able to offer OEMs a greater range of power options than ever before, including some of the most advanced technology on the market in the form of our increasing range of EFI models" comments Jack Ford. 
The future for both Kawasaki Engines and Spider looks bright and it certainly seems that they won't be standing still. If past performance is a predictor of the future, the offering to the turfcare market will look even bigger, better and more technologically advanced.  Watch this space!