Kawasaki Engines roll-out European EFI Service Training programme
26 feb 2018
Training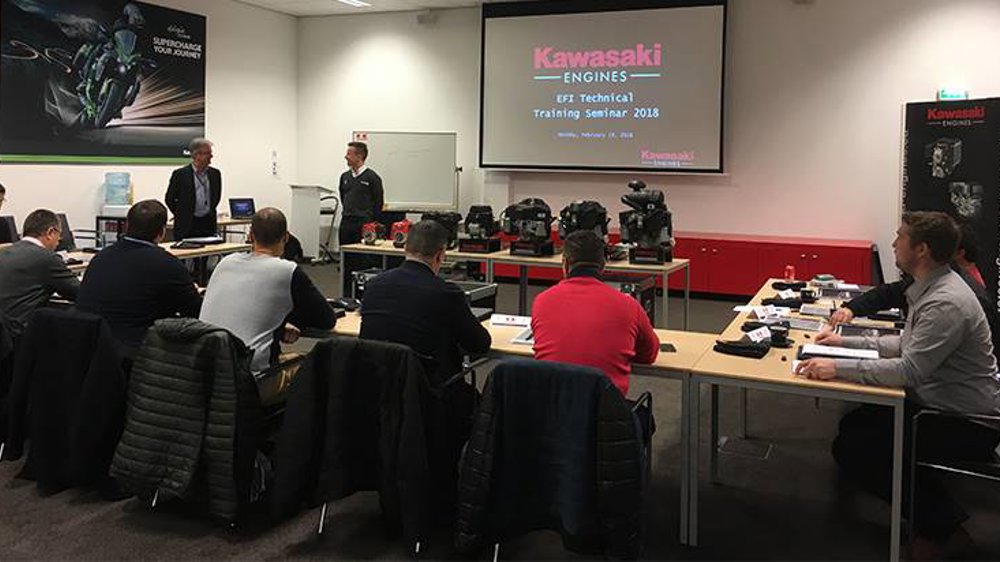 Kawasaki Engines European Division has delivered a major new training programme to their Distributor Network, ahead of Kawasaki EFI powered product launches by European turfcare manufacturers this Spring.
Attended by Kawasaki Engines Distributors from across Europe and the Middle East, the four-day event was held in The Netherlands and provided classroom and hands-on sessions, designed to equip Distributors with the latest technical knowledge for comprehensive servicing of Kawasaki EFI powered machinery in their countries.
"We've adapted our EFI engines to help turfcare professionals in Europe mow better, smarter and more efficiently", comments Andy Pringle, European Sales Manager for Kawasaki Engines. "We've been delighted by the engine's performance in European grass conditions and our focus is now about providing an equally expert level of aftersales support for customers of our OEMs."
Martin Cook, Head of Parts and Technical Service at Kawasaki Engines, who coordinated the training programme adds, "This latest training session is part of our ongoing programme of knowledge support to our network. The understanding of the benefits of our EFI technology was already very impressive as a result of previous updates at our Distributor Conferences; however these sessions allowed us to get hands-on and cover the diagnostics in much more detail. For example, we were able to run live fault-finding exercises which the Distributors found particularly useful."
The next stage for Martin's technical team is to ensure the knowledge is effectively communicated by Kawasaki's Distributors to their Authorised Dealer Networks in each country. "We have provided training resources to our Distributors, but remain on-hand for advice during their roll-out programmes", Martin adds.
The sessions were also an opportunity for Kawasaki Engines to update Distributors on recent improvements to their engine model range.  These include a new addition to their popular FJ180V 4-stroke, single cylinder line-up, to be available from 2019, as well as new options now offered on their 2-stroke TJ models: a Light Pull Recoil starter on the TJ53E which advances the existing KAR starter for even easier starting, plus a Heavy Duty clutch option on their TJ35E and TJ45E, providing more positive power transfer and increased durability.