Introducing our first brand ambassadors: Paul Griffin
4 Jan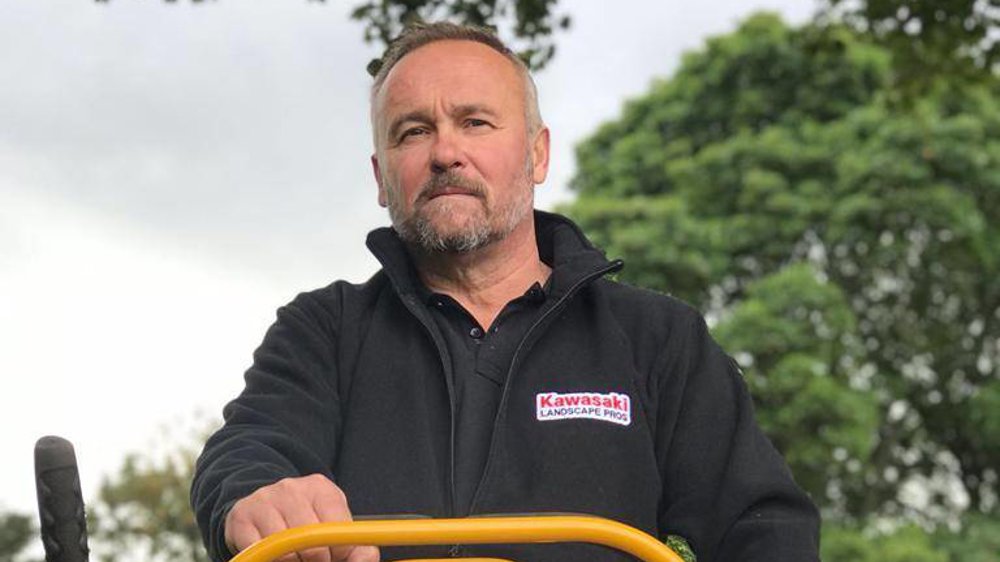 Name: Paul Griffin
Business: Paul's Garden Services & Handyman
Date: December 2022
We're delighted to announce one of Kawasaki Engine's first brand ambassadors – Paul Griffin. Paul runs his gardening business in West Yorkshire, where he has been providing a top-quality service for decades. Paul has gathered quite the social media following, championing reliability in his work, something that's made easy with Kawasaki engines.
We spoke to Paul about his thoughts on becoming a Kawasaki Engines Brand Ambassador.
Paul, we're thrilled to have you on board as a brand ambassador for Kawasaki Engines! What are your thoughts on your new role?
I'm really looking forward to it and am honoured to be part of the team. I'm sure it will be quite the adventure so I'm looking forward to seeing what it brings.
How do you think this partnership will benefit your business?
The technical support I'll receive from Kawasaki, as and when I need it, will be a huge benefit, and it obviously looks good for me if people know that Kawasaki has my back. I think this partnership will also be helpful for Kawasaki Engines too. They'll get a lot of honest feedback on my social media posts because that's the way I operate – I like to speak the truth, whether it's good or bad.
How has 2022 been for Paul's Garden Services so far?
Business-wise, it has been mad. I don't know when the last time I took a holiday was or where the last eight years have gone! When we had the pandemic, I thought we'd get quiet, but it totally went the other way. Six, seven days a week constantly, all year round, which is good, but at some point you need some work-life balance, and I think mine's the wrong way round at the minute!
The gardening game we're in is very challenging, and with the heat we've had this year, it has definitely had an impact. I've had customers ringing me up telling me not to come because the grass hasn't grown, or it's been too hot. At that point you've got to adapt and do something else.
We're now approaching the end of 2022. Looking forward to the coming year, what do you want from your business in 2023?
Hopefully not as much sun as this year! Otherwise, I think I want to just go on as I've always been. I'm a hardworking man so it'd be great to just keep working, keep busy, keep exceeding my customers' expectations, like I've always done, and try to gain some new customers while I'm at it. Not that I need any more! 
Because I've done this for such a long time now, I'm dealing with the kids and grandkids of some of my original customers. I'm fortunate in that way, I don't always have to look for work, it just comes.
How about in terms of the industry, do you foresee any challenges on the horizon?
I think it's going to be a tough year if I'm being honest. Obviously with everything that's going on in the world at the minute, people are short of money, and gardening at the end of the day is a luxury for a lot of people. I don't know whether people are going to cut back on things like that and do more themselves. It's going to be a hard year. 
How do you plan to work around those challenges?
I think as gardeners we have to think out of the box a little bit more, look after our customers even more. You can't really set plans as such. When you're so busy like I am, it's hard to plan ahead for those situations when you're so busy anyway. I'll deal with that when and if it comes. I'm not someone to sit around and sulk – if obstacles crop up, I'll find a way around them.
People newer to the industry may be more worried, and so might those only doing grass cutting. I'm fortunate in that I do a bit of everything. If someone asks me to clean a patio or fix a roof, I can do it. I can turn my hand to anything, so there's always something I can do.
We'd like to learn a little bit more about you. What's a fun fact about yourself?
I'm normally quite a serious guy, but after a hard day's work I like a gin and tonic and an hour in my jacuzzi to chill and repair my body from a long working day.
What is something you love?
My partner, Joanne. I couldn't do what I do without her support, running the show behind the scenes. But also, my two dogs and my motorbike. That's my way of chilling. I can have the worst day in the world but once I walk through that door, within twenty seconds of seeing the dogs, it's all forgotten about.
What is your favourite Powered By Kawasaki machine?
I've got several. I would have to say my new Hustler Super S stand-on with the FS541V Kawasaki engine or a close second would be my TJ53E strimmer. Both are just awesome machines in their own different fields. But like I said, I've got several. About three quarters of my fleet have Kawasaki engines so it's hard to single just one out. 
What is your favourite part of the job?
Using great Kawasaki powered equipment! (Promise I haven't been paid to say that!) My favourite parts of the job are usually other people's nightmares. I love taking the biggest overgrown horrible messes there are, and then turning them into something nice when I'm finished. I love my challenges. 
Is there anything else you think is important for people to know about you and your business?
I'm an old school gardener, I do exactly as it says on the tin, and often go over and above what I've been asked to do to meet customers' expectations. I'm one of those where if I get a new customer, I want that customer for life. I'm very good at pricing, I won't overprice to do a one-off job and never see them again. I'll always price reasonably so I can keep that customer for life. 
Thanks for chatting with us Paul! We're so pleased to have you onboard.
We're delighted to welcome Paul as a Kawasaki Engines Brand Ambassador – follow Paul on Facebook and keep an eye out for more Kawasaki Engines content!
If you share Paul's appreciation for everything Kawasaki Engines, you could be our next ambassador! We're looking to welcome brand ambassadors across Europe who share a love for landscape maintenance and quality equipment. 
Find out more about becoming a Kawasaki Engines Brand Ambassador here.