Introducing our first brand ambassadors: Sam Jarockyj
4 Jan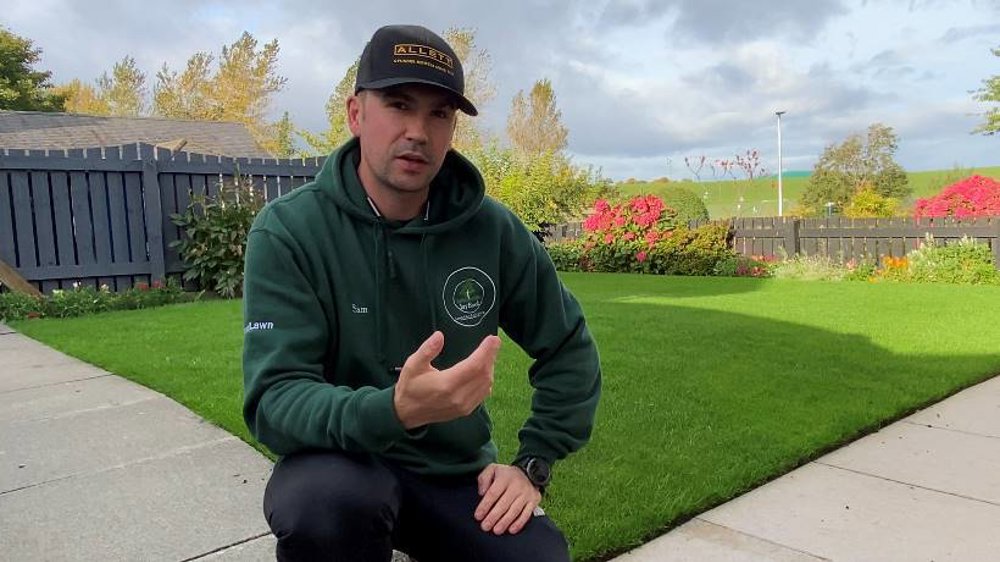 Name: Sam Jarockyj
Business: JayRock Lawn Care and Gardening
Date: December 2022
We're excited to introduce one of Kawasaki Engines' first brand ambassadors – Sam Jarockyj. Sam operates his successful lawn care and gardening business in North Scotland. He has an extensive social media following and understands the importance of investing in good quality, reliable, trustworthy machinery, making him the ideal partner for Kawasaki Engines. 
We chatted to Sam about his thoughts on joining the Kawasaki Engines team as one of their first brand ambassadors.
Welcome on board! We honestly couldn't be more delighted to have you working with Kawasaki Engines as a brand ambassador! What is it that appealed to you about a partnership with Kawasaki?
I feel truly honoured to be given the opportunity to be a Kawasaki Engines Brand Ambassador. In our industry we must stand by the kit and equipment we use and in doing so reliability is a massive factor. When it comes to engines the only one that comes to mind is Kawasaki, so I feel truly blessed to be given this opportunity. 
What are you most looking forward to in your new role working with Kawasaki?
It will be great to have direct contacts that can offer advice especially in this growth period my business is in. I believe it will be beneficial to learn more about the engines Kawasaki produces and by spreading Kawasaki Engines' content through all platforms I am on, I hope I can be a beneficial ambassador to Kawasaki Engines EU. The more I learn, the more I can pass on – I see it being a 360 process for both of us. 
How has 2022 been for Jayrock Lawn Care and Gardening?
2022 has been fantastic for myself and my business. I've seen a sharp rise in growth both for clients and the online communities we have. I've been lucky enough to gain commercial clients as well as large domestic properties which is naturally pulling me towards using bigger, commercial-grade equipment. With 2022 having been so prosperous I'm really looking forward to heading into 2023.
What do you hope 2023 brings for your business? 
I plan to make a bigger push into the commercial clientele market as well as possibly bringing on my first employee. Both hold their own challenges and rewards which I am looking forward to! 
That's fantastic, what about the challenges in the market – do you foresee any?
There will be some problems in 2023 – the price of living is likely going to continue to rise and naturally clients will cut back. The positive to this is that hopefully we will have a healthier pool of clients to choose from. At the end of the day the grass still grows, patios still become dirty and walls still need building.
Being prepared will be the most valuable thing you can do, whether that is keeping money aside, tightening your budgets, looking into other services you can provide, all of this I am already doing in the background, and I would like to think will hold me in good stead. Making the business robust will strengthen its roots. 
What's your favourite Powered By Kawasaki machine?
Now that's a hard one! I think it would have to be the Ferris Z1 Stander - Kawasaki FX600V engine. I love the compact design of the Ferris Stander and their performance looks fantastic. Although after walking around SALTEX I realised there are so many brands which use the Kawasaki engines that just look amazing!
What's a fun fact about yourself?
I am half Ukrainian (on my father's side) and my last name Jarockyj is actually spelt Yarotskyi in Ukrainian. 
What do you love doing?
I love to golf and hold a handicap of 10. Although the last couple of years I haven't had as much time to commit to the sport, I would often play several times a week.
What's your favourite season and why?
SPRING! I love spring, I really don't like winter for working, everything feels so dull with the dark nights, plants dying back, and deciduous trees bare from their leaves. Spring is the start of the cycle where all the bulbs start popping up, plants come into flower and overall, colour's just coming back into our gardening spaces. That, with the longer days and warmer weather just feels like a fresh slate for the start of the working season.
What's your favourite part of the job?
Seeing such amazing places and meeting new people. I'm blessed to live in a gorgeous part of the UK – Moray, Scotland and so many of my clients live in such beautiful locations with the most breath-taking views. If I didn't do this job, I wouldn't find myself in half of these locations. 
Do you have any work-related rituals?
Yes! Every time I go to cut a standard lawn my standard practice is to strim anti-clockwise and edge, followed by a double frame cut of the lawn, followed by laying stripes and then blowing. If I do it any other way, it feels very strange!
What's the most random/fun/interesting experience you've had while working? 
My most random experience must be the time I went to one of my usual fortnightly properties in a rural area. It was during the heatwave of 2022 and as I walked around the property I came across – to my shock! – my elderly male client sunbathing in the nude! It was as you can imagine a rather awkward encounter!
Thanks Sam! It's great to hear about your life and work in Scotland – and some of the more unusual perils of landscaping!
We couldn't be more pleased to welcome Sam on board as an official Kawasaki Engines Brand Ambassador. Follow Sam's social media channels to see more of his own and Kawasaki Engines-related content. There's plenty more landscaping tips and insights – as well as interesting anecdotes – to come!
If, like Sam, you rely on Kawasaki Engines to keep you working through the week, consider joining us as a brand ambassador. We're looking to welcome brand ambassadors across Europe who share a passion for landscape maintenance and quality equipment. 
Find out more about becoming a Kawasaki Engines Brand Ambassador here.