How to start a landscaping business in six steps, with tips from Sam Jarockyj of JayRock Lawn Care & Gardening
10 Jun 2022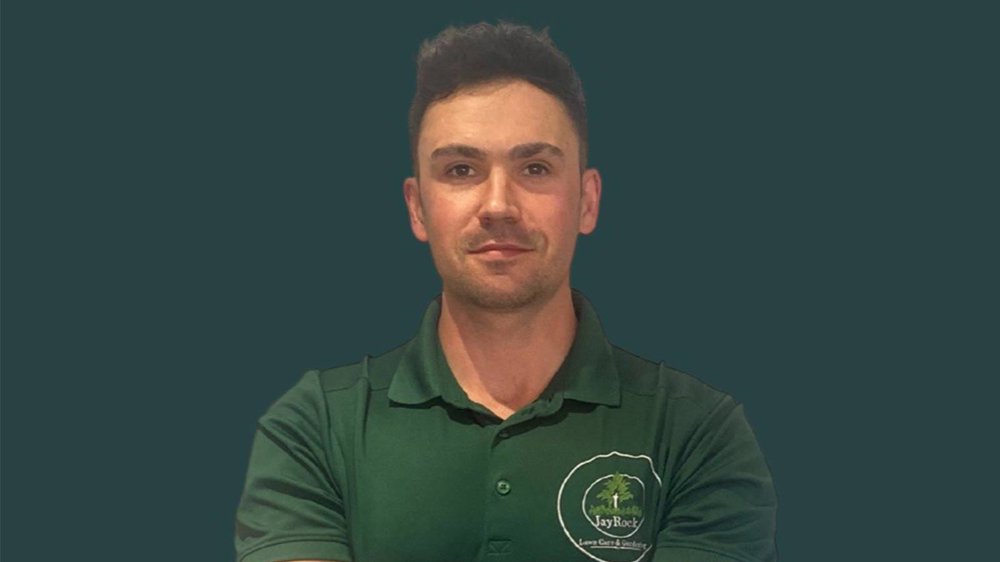 If you're dreaming of long days outside under the open sky, and have a long-held passion for gardening and lawn maintenance, you may have considered starting your own landscaping business.
You wouldn't be alone in dreaming of pastures new: a report by Workday and Yonder Consulting has found that 25% of employees across Europe are hoping to change jobs in the next 12 months. According to another piece of research, a fifth of adults in the UK are looking to generate an income stream from a hobby. Going from landscaping as a hobby to landscape gardening as a profession is a big leap, but with our step by step approach, you can see if it's one you're willing to make.
With tips and advice from Sam Jarockyj, who was in your shoes as recently as 2020 and who now owns and runs JayRock Lawn Care and Gardening in Northeast Scotland, we can help you decide if starting a landscaping business is right for you.
1. Decide if starting a landscaping business is right for you
Should you become a professional landscape gardener?
Before you have even cut your first blade of grass, started a thorough business plan and come up with a personable yet professional name, you need to question if starting a landscaping business is right for you.
Becoming your own boss has many benefits, like flexibility and freedom, but it does require a driven personality type, as the responsibility for your company's success falls entirely on you.
Sam, who began his own company from scratch in 2020, says "To become a professional landscape gardener, and not just a hobbyist, you really need to want to make it work. If you have a passion for something, it can be something you really strive towards – but you have to be willing to commit and dedicated to making it succeed."
On the ideal personality type for the industry, Sam said "It doesn't matter if you're an introvert or an extrovert, but you do need to be thick-skinned and open-minded. Mistakes should be lessons moving forward and taken on the chin, not signs to stop. People skills are important, but it's about being reliable, communicative and making an effort with your customers."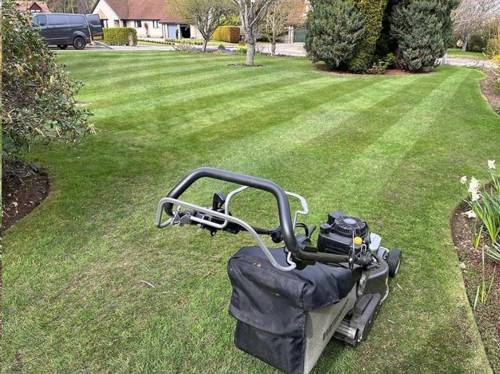 Is there an opportunity to start a landscaping or lawn care business in your area?
Though the next step of writing a thorough business plan will explore this further, it is worth researching the area and considering the competition.
You can easily research online the landscaping services available in your local area, and look for a gap in the market. Landscape gardeners can provide so many different services that even a saturated market may offer some opportunity. Identify what your competitors are lacking – which could be anything from a more personable service to a niche tool – and determine your own target market.
Do you have any relevant skills or expertise?
You don't need any specific qualifications, but you will want to ensure you are the right person for the job. Applying any relevant experience, from prior knowledge of landscape design to expertise in lawn maintenance, could give you the edge when compared to the competition.
There are many aspects to operating a landscaping business, and knowledge of various topics, like how to identify poisonous plants and expertise in handling pesticides, can be incredibly useful.
As Sam points out, however, anything you lack in experience and knowledge can be learned, "You can learn everything you need to know for landscaping. Sometimes something crops up from potential customers that you didn't realise you could provide. Practical learning is best, and the internet is an excellent resource; you can watch tutorials on Youtube, then try it out in your own garden or the garden of someone you know."
"If you're a complete novice to gardening and landscaping, you could work under someone, or even volunteer at local businesses. Or learn a skill online, and ask for advice from people in the trade. But eventually just go for it yourself. Lessons you learn through failure with your own business are worth so much more than being told by someone else. It's always good to have someone guide you, but there's nothing like learning yourself."
He emphasised the importance of managing customer expectations, "It's essential to be honest and upfront with customers, and manage their expectations - particularly if they're asking for a service you have no experience with. Manage expectations and you will avoid disappointing your customers."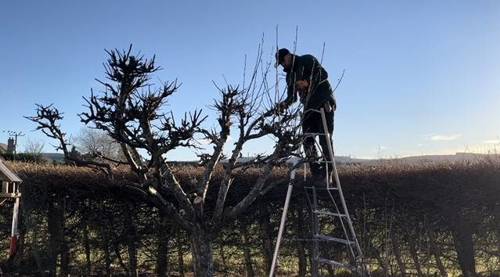 2. Write a business plan
Writing a business plan provides you with actionable steps and a focus that will help you become a viable business. As a small business owner, your business plan will need to incorporate every aspect of your business, as you may not wish to outsource work that accountants would typically handle in these early stages.
Your plan needs to include how you will operate your business, the services you're going to provide, an estimation of costs and your required pay, and how you plan to make it work. At this stage, you should identify your target market, create a rough financial summary and outline your marketing strategy.
Understanding what constitutes a key consideration for new customers could help you find your own angle in the lawn and garden maintenance industry: offering customers something different to your competitors is essential, and should be defined in your business plan.
3. Choose a name for your new business idea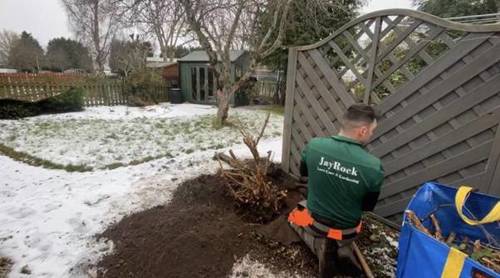 Choosing a name for your landscaping businesses can feel like a monumental decision, but don't overcomplicate it. The name should highlight the services you provide, while also being easily identified as yours. A potential customer needs to be able to pinpoint exactly what you offer.
When deciding on the name for his business, Sam decided early on that he wanted it "to be something that tied me in as a person. It was important to me to get my name out there. My last name is Jarockyj and my nickname since school has been Jay Rock; for me, JayRock Lawn Care & Gardening was the perfect blend of personal and informative."
As well as deciding on a name for your company, you should also create a brand logo. This will be important in marketing the business and make your company look professional.
If creativity isn't your strong suit, you could employ the services of a graphic designer. If you want to save more money in the early stages of the business, you could make it yourself. Services like Canva are user friendly and great for beginners; Sam created the logo for JayRock Lawn Care & Gardening this way, and still uses that same logo today.
4. Figure out the financial side
From managing costs to choosing insurance; there are a number of financial considerations to ponder when starting a landscaping business.
How much does it cost to start a landscaping business?
This depends on the scope of your business; it can really be as much as you want it to be. Some people start a landscaping business with borrowed tools, or even use their customers' equipment. Others can afford to invest heavily in an assortment of premium equipment.
You will need to factor in labour and material costs, and designate the pay and hourly rate you'll receive from each job. As Sam points out, the landscaping industry is seasonal, "the bulk of your income will come in the busy spring and summer months. You will need to plan your finances accordingly and expect there to be downturns in work levels during the winter."
Generally, you should put aside around £3-5k (€3.5-5.5k) as a bare minimum to start up a landscaping business, but £10-20k (€12-22k) is more common. £3-5k (€3.5-5.5k) will cover only the most basic equipment, but £10-20k (€12-22k) will cover essential equipment and give you some leeway if business takes a while to accumulate.
Some people may start landscaping as a part-time job at the weekend, others will dive in full-time. If you're completely leaving behind a regular income to jump right into becoming a small business owner, you will want to ideally have a cushion of roughly six months of your previous pay to cover any expenses. You won't want to be in a position of uncertainty and stress if it takes some time for the first customers to roll in.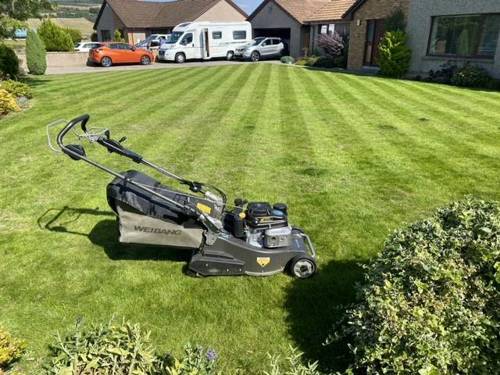 Manage your accounting right from the start
Setting up your financial systems correctly from the start will prove invaluable and staying on top of invoicing and accounting will pay dividends for long-term success. Try to be organised, scheduling administrative tasks so you make yourself do them in a timely fashion is key.
Managing costs, taxes and finances can seem intimidating. But if you incorporate it into how you operate your business from the start, it will be far easier. Sam insists that staying on top of finances is often the difference between a failed enterprise and a successful one; "it's so important to stay organised with your finances. To keep things simple, you can use an accounting app like Quickbooks to improve efficiency, and invoice as you go. If you approach accounting seriously and conduct your finances properly from day one, you can avoid a lot of stress later on."
What type of insurance do you need as a landscaper?
At the beginning of your journey to becoming a professional landscaper, insurance may be far from your mind. But insurance is an essential that shouldn't be ignored, and the cost of dismissing the need for insurance could cripple your business, or even be breaking the law.
If you are working in public spaces, you will need insurance to protect you from claims in case any injuries to members of the general public occur. If you have employees working for you, you will need insurance as an employer – this is typically a legal requirement.
5. Establish which tools and equipment you need for professional turfcare jobs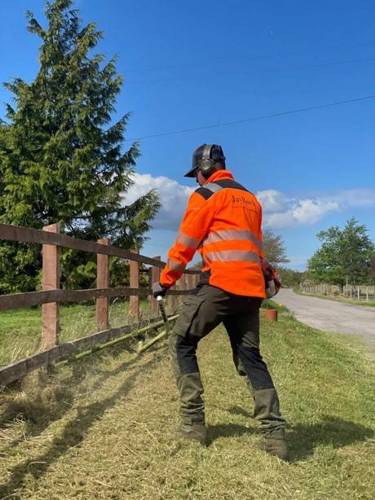 Landscape gardening covers a wide spectrum of work, and the tools and equipment you need will depend on your target market, and the jobs you expect to be doing. Heavy landscaping will require a different set of tools to soft landscaping, for instance.
If you're unsure, you will quickly learn as you go what equipment makes sense for your business and the direction you want to take, and what is surplus to requirements. Generally, the first equipment investments you make will be the backbone of your offering.
There are, however, a few essential pieces of equipment you're likely to need regardless:
A reliable mower
A strimmer for edges
A hand tool for borders.
Identify who your customers are and the services you wish to provide and you can then research the necessary tools – landscaping can go in so many directions, which is why creating a detailed business plan is essential.
Invest in high-quality, reliable equipment
Commercial usage puts a demand on equipment that many cheaper models cannot withstand. Investing in high-quality, reliable equipment will be more economical long-term than the cost offset by purchasing cheaper models initially. Purchasing machinery from reputable and trusted brands is more cost-effective long-term and ensures you can provide a premium quality service from the beginning.
Of course, your budget might not allow for that; in which case buy the best you can afford. As cash flow starts to build and you get regular customers, you will be able to invest more and identify more easily what you need.
Sam advised: "It's better to invest early on if you can. Everyone has to start somewhere, so if you're starting with a pair of shears and a broom just to get you by then that's what you've got to do, but I always advise buying the best possible equipment with the budget you've got."
He continues: "Look into manufacturers and the known brand names – organise demos where you can – and make an informed decision."
Kawasaki Engines offer power and durability
When asked for a brand worth trusting, Sam pointed to Kawasaki Engines: "There's equipment that is slightly underpowered and there's equipment that will be uncomfortable to use, but that has never been an issue with any of my Kawasaki-powered equipment".
"With a Kawasaki engine, you just know it's going to be reliable and you know it's going to be powerful. When it comes to a great engine, Kawasaki is one of the first that jumps into my head."
Kawasaki Engines provide a level of reliability, durability and trust that is essential at a commercial level. Equipment powered by Kawasaki is capable of handling a demanding workload with ease, and won't let you down when you need them most.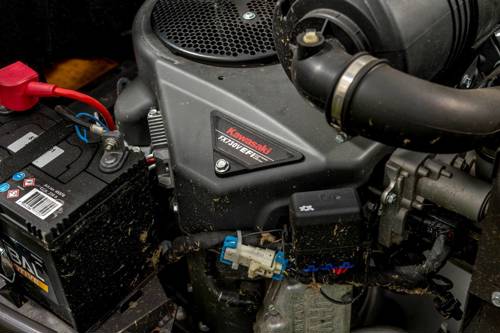 Should you purchase or hire new equipment?
With so much to choose from, deciding on whether or not to buy your equipment or hire it could be crucial to ensuring your business is successful.
Sam put it simply: "Buy what you need, hire what you don't. Some tools are perfect for a seasonal job and it makes more sense to hire them as and when needed or borrow. You will find yourself renting more equipment at the start, when you are still trying to gauge what your business needs."
6. Find your first customers
So you have a name, a plan and you've identified the equipment you need – now it's time to put it all into practice. Finding your first customers is one of the most difficult challenges for aspiring landscape gardeners and requires diligent marketing and perseverance. The market research you conducted when deciding to set up your business will be an immense help at this stage.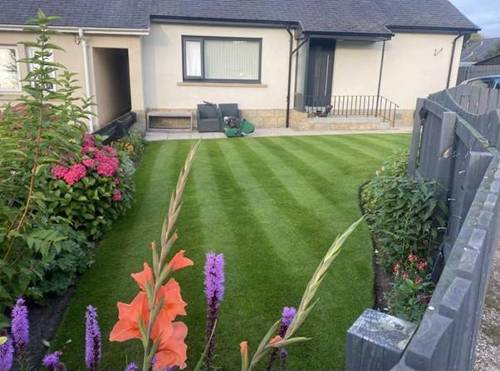 Begin your marketing strategy
There are two effective forms of marketing for a brand new landscaping business, and you should employ a mixture of both. Advertising your services online is a fantastic way to attract regional interest, but in-person marketing is equally important.
Commenting on his own early success, Sam advised: "You just need to get yourself out there, and not be afraid of who sees you. I wanted to be everywhere; I used social media and online marketing and created my own business cards, leaflets and posters to have a physical presence in the community. There's a whole generation not necessarily comfortable online, so you shouldn't rule anything out."
"Even embroidered shirts while working can get you interest from passersby. If you have a limited budget, you can knock on doors, do leaflet drops and offer your services that way. Start building a reputation as soon as you can so as soon as someone needs something doing, you automatically come to mind."
Sam shared that Google My Business was an especially fruitful source of new customers, establishing JayRock Lawn Care and Gardening as a legitimate, trustworthy business in search results on Google. Other useful avenues were to advertise through Facebook and other social media platforms. Referrals, adverts in local newspapers and other forms of marketing all helped his business grow. And lastly, should you have livery on your commercial vehicle, make sure you keep it clean and well presented; it will reflect on the job you will do.
Quick tip: Target any new housing developments, as new proud owners move into newly built houses, those streets are paved with gold for those who can offer instant changes and blank canvas gardens are often the standard for brand new homes.
For more marketing advice, read the 18 tactics for marketing your landscaping business in 2022 and Small business marketing for landscapers: your 1 year marketing plan.
Final advice on starting a successful landscaping business from Sam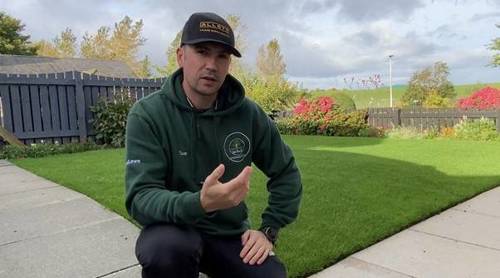 There is no better inspiration for starting your own landscaping or lawn care business than to hear from someone who has achieved it themselves. Sam shares a few final thoughts and tips on how to find your footing in the industry:
How long did it take to feel secure in your business? "It started out as wanting to do it as a second job, but I still treated it as a real business venture: I got all the logos and documents sorted and pushed it out. It took about a month to realise this would produce an income, not just pocket money to supplement something else. It can be as fast as that. I started on the 1st of August 2020, and by September it was already proving to be more than I ever thought it could be."
What would you say to yourself if you could start over? "Just believe it's going to be okay. There will always be money worries, concerns about being able to afford equipment. I should have worried a lot less! Stay consistent and reliable in yourself."
Any final advice for people on the fence? "Go for it! Just do it. Whether you're doing it for a day a month or every weekend, just try it. You'll soon realise if it's not for you or you'll learn that the passion is there and that you're prepared to do whatever it takes to make it work."