Why you should purchase a Powered by Kawasaki ride-on mower for professional use
15 Mar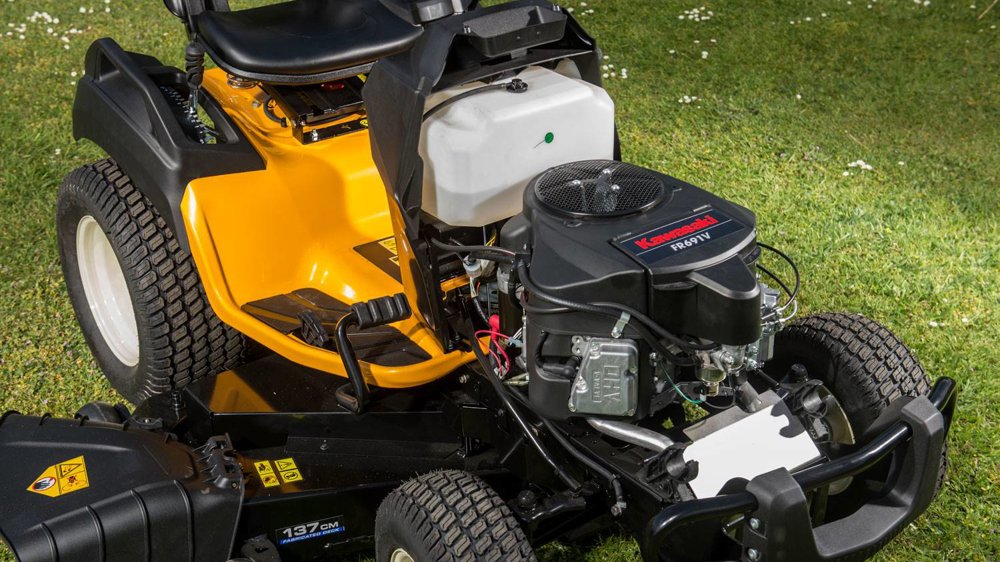 We know that a ride-on mower is no small investment in your business. A ride-on lawn mower that can keep up with a commercial-level workload doesn't come cheap – which is why, understandably, you want to ensure you're making the right decision.
There's plenty of choice in the market for ride-on lawnmowers, and they range from budget residential models meant for larger gardens to the advanced tech only a professional would require.
A key component of any ride-on mower is of course its engine: the performance of the machine relies hugely on the technology powering it.
Kawasaki Engines have been manufacturing high-performance, high-quality engines for ride-on lawnmowers for decades. Through that time, we have built a reputation for durable, efficient and powerful engines that any professional can be confident in.
Why a Kawasaki engine?

Before we dive into the different types of ride-on mowers Powered by Kawasaki and their strengths, we need to look at why you should be choosing a ride-on mower with a Kawasaki engine at all. 
Through decades of earning the trust of professionals, we have proven that our engines provide power that can be relied upon. For landscaping work on a commercial scale, you will find it difficult to find a more suitable engine than a model from Kawasaki Engines.
Listed below are a handful of reasons why you should be looking to Kawasaki Engines to power your ride-on mower.
Assured quality
With Kawasaki Engines you know you're getting an engine that can match the service you offer. We've been manufacturing engines since 1957 and we've had plenty of time to perfect the process since.
Professionals know that Kawasaki Engines is a brand they can trust. We've earned the reputation of not only being a safe choice but, for many businesses, the right one. Our quality is assured through stringent and rigorous testing; we test our engines in extreme conditions to guarantee they can perform even in the harshest environments.
Proven quality is essential with such an investment – which is why no engine leaves our production facilities without being test run. Our engines are designed to be high-performance and excel in commercial environments: for professional use, why risk your reputation for anything less? 
Durability
A landscape maintenance professional's schedule places huge strain on the engine of your machine. Long days, varied terrain and tough conditions present a challenge that many engines can't withstand.
Long-lasting strength is a key consideration in the design of any of our engines, which is why they're made with premium quality components; often using heavy-duty metal parts.
Crankshafts and cylinder liners are forge-quality cast iron. Crankcases and cylinder heads are high-pressure die-cast, using automotive-grade aluminium. Even the rotating grass screen, which protects the engine from larger debris like grass clippings, is made from hard-wearing metal.
Extended professional use demands features that can keep up with your workload: Kawasaki Engines is more than up to the task.
Take a look behind the scenes in our Maryville, USA production facility to see exactly what it takes to build an engine of Kawasaki quality.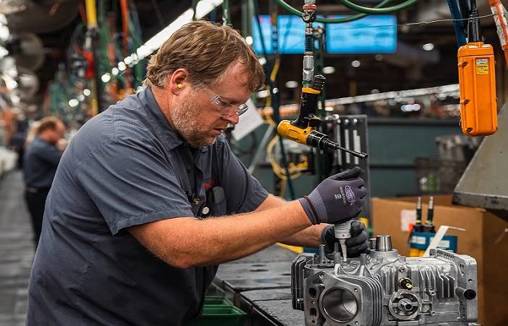 Efficiency
Kawasaki engines are engineered to be exceptionally efficient. Everything from the shape of the cylinder heads to the design of the filters has been carefully considered to maximise efficiency.
Keeping running costs down is part of owning a business – long-term, an engine designed with efficiency in mind, and one that works effectively for many years, potentially even decades, will be cost-effective for your company.
Reliability
Every single V-twin engine manufactured by Kawasaki Engines is test-run before it leaves the factory. We design our engines to be a reliable power source for your equipment that you can trust to keep running year after year.
An engine that requires fewer services and repairs will help you spend more time working, and less time in the workshop. We're proud to be a safe choice for any professional landscaper.
We're so confident in our engines that we offer a 3-year, unlimited hours warranty – proving that your engine can work as hard as you do.
Power and performance
Our overhead valve configuration delivers maximum power and efficiency, while the high-performance lubrication system and superior filtration systems help your engine achieve optimum performance.
Power and performance are always key considerations for any engine. Knowing that your engine can reach the level you need after years of tough, relentless work is priceless for a professional. With Kawasaki Engines, you know you're going to enjoy smooth running and exceptional power, no matter the engine size.
Find the right Kawasaki engine for you
Kawasaki engines are designed to handle a demanding workload. For ride-on mowers, we have a variety of engines available – all made with that reliable Kawasaki Engines quality, but meant for different purposes.
Kawasaki engines suitable for ride-on mowers include the FR, FS, FT, FX and EFI engine ranges. Below is a brief summary of each 4-stroke V-twin engine type, and their typical uses:
Which ride-on lawn mower should you choose?
There's a surprising amount of variety under the umbrella term of ride-on mowers. From lawn tractors to zero-turn mowers, there is plenty of choice for commercial lawn care – below are some of the best.
Front mowers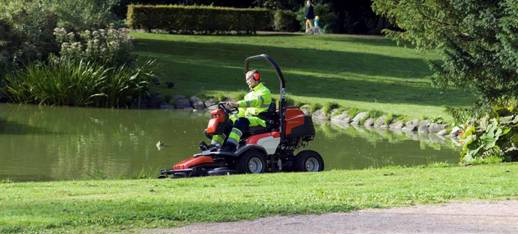 Mowers with a front-mounted cutting deck are classed as front mowers.
The location of the deck is significant for visibility, as it allows the operator to maintain their line of sight while cutting. It can also reach more awkward areas on lawns with trees, hedges and other obstacles. You avoid flattening the lawn as you cut it with a front mower, as the weight of the machine is behind the deck, which is especially helpful when you need to mow longer grass. You can spend less time strimming, and expect a smoother flow when mowing.
There are some variables to consider with front mowers, including cutting width and if they can be used for mulching. Many front mowers can switch accessories and cutting decks; they can be changed to suit the time of year, like being used to mulch in spring.
They're generally a solid choice for professional use and are the perfect solution for lawns in both larger gardens and more substantial pieces of land thanks to their adaptability.
Lawn tractors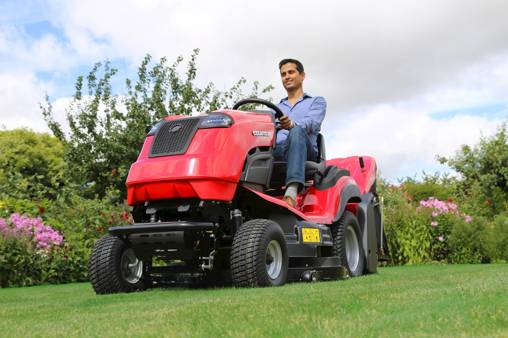 Sturdy and strong, lawn and garden tractors are a versatile addition to your toolkit. With the option of connecting a variety of attachments to lawn tractors, they're a great option year-round.
A lawn tractor can be used to collect lawn clippings or fallen leaves, and have a range of features that make them a reliable choice for professionals.
Lawn tractors aren't as manoeuvrable as some other mowers, but have many of the same features, like cruise control, that make the lawn tractor a comfortable seat for professionals. They're simple to use and suitable for both larger gardens and wider areas, though other options may better suit particularly rough or sloped terrain.
Zero-turn mowers
Zero-turn mowers are an increasingly common choice among landscape professionals. They can cover a large area very quickly, and are famous for their manoeuvrability.
The tight turning radius of these mowers allows you to turn on the spot to avoid obstacles like trees and flower beds. Whether you're working on a particularly large lawn in a garden or a space considerably bigger than that, zero-turn mowers are the perfect solution for covering varied terrain, with the ability to handle slopes and more challenging turf.
These powerful mowers are fast and efficient; they excel in larger spaces. They are able to turn very quickly on the spot, making the transition from one pass to the next incredibly smooth, and helping you cover large areas quickly and efficiently. Zero-turn mowers are an excellent choice when working on a commercial scale.
One downside to zero-turns is of course price, as they tend to sit on the more expensive side of ride-on lawnmowers. Another is the learning curve on how to use it: it's not as straightforward as just pressing a pedal, as you would for a lawn tractor. They're typically operated with levers, which is a slight adjustment at first, but isn't anything prohibitive to a professional user. If you're able to invest a little more time and money, zero-turn lawn mowers are a valuable addition to your business.
Stand-on mowers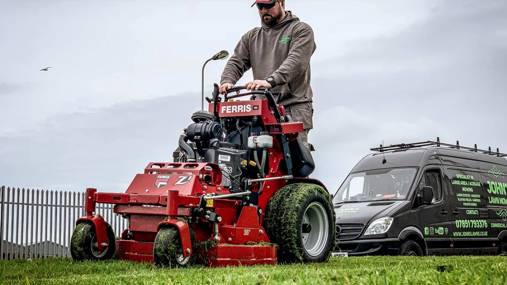 You may be surprised to see stand-on mowers in this list, but the absence of a seat doesn't stop these machines from being ride-on mowers.
They're not quite as common in commercial landscape maintenance, but stand-on mowers are excellent ride-on mowers for variable terrain. They have great manoeuvrability, can cope well with inclines and slightly rougher terrain, and offer excellent visibility, giving the operator complete control over the machine. 
Using a stand-on mower means you're not spending lengthy periods sitting – as well as allowing you to hop on and off the machine quicker, it can also be better for your back.
Our OEM partners
An engine isn't going to be doing a lot of mowing on its own. You need a machine that can match the quality of its engine to know you're getting the best performance possible.
We work with leading brands that, like Kawasaki Engines, have built a reputation for producing quality equipment, to ensure your new ride-on mower is the best it can be.
Ride-on Powered by Kawasaki equipment includes brands like Ariens, ATCO, Countax, Cub Cadet, Etesia, Husqvarna, Hustler, John Deere, SCAG, STIGA, TORO, Westwood and Wisconsin. Find out more about ride-on mowers powered by a Kawasaki engine here.
Finding the right ride-on lawn mower
We hope this guide makes your search for the perfect ride-on mower for your business that little bit easier.
There are, of course, factors outside those discussed here that have an impact on your decision; like price. Price is obviously an aspect you'll need to consider, but advice from fellow professionals has generally been to purchase the best engine you can afford: the money you spend now will soon pay dividends in longevity and performance.
For more information on how to choose the right ride-on lawn mower, check out our buyer's guide.