Essential tools for landscaping businesses
9 May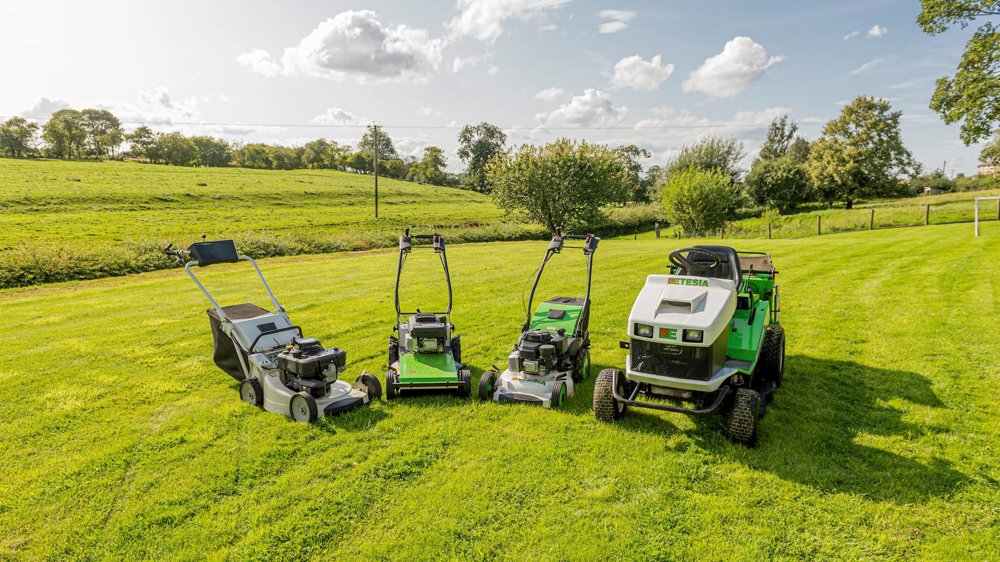 A good workman never blames their tools, as they say – so long as they have the correct ones! We take a look at the most essential tools for landscaping businesses; do you have everything on the list?
In 2023 we are beginning to see a shift back to self-employed lifestyles. As of January 2023, there were 4.3 million self-employed workers in the UK alone.
With Germany reporting 3.6 million and no less than 26.9 million reported across the entire EU in 2021, self-employment is the preferred choice for a significant portion of European workers.
Landscaping is an extremely viable career path for those looking to start working for themselves. Not only does it reap the perks of regular self-employed work; like more flexibility and control over your own schedule, for example, landscaping has the added benefit of working outdoors. In fact, studies have shown that outdoor work reduces the physiological symptoms of stress, as well as improving mental health and wellbeing from increased light exposure and connection to the natural environment.   
That being said, landscaping is no walk in the park. It can be long hours of hard labour in less-than-perfect weather conditions. So how do you maintain those reduced stress levels when building a new landscaping business? It helps to have to the right equipment, so that you have the tools you need for the job without unnecessary expense on items you won't use.
It may seem self-explanatory, but a strategic and well-maintained toolkit can make a landscaper's life much easier, and produce results that customers can be proud of. It may be common knowledge for an experienced landscaper, but knowing the toolkit essentials is a must for anyone interested in starting fresh, so here we go over the tools that are essential for landscaping businesses, both big and small.
Landscaping machinery
Most landscapers will work with machinery to some extent, but it's especially important to be equipped with the proper machinery if you have a landscaping business that regularly works on larger projects. This type of equipment is, of course, a bigger investment than their manual tool counterparts, so knowing which machines are essential will help you to budget accordingly when making purchasing decisions to buy or hire machines. 
Lawnmower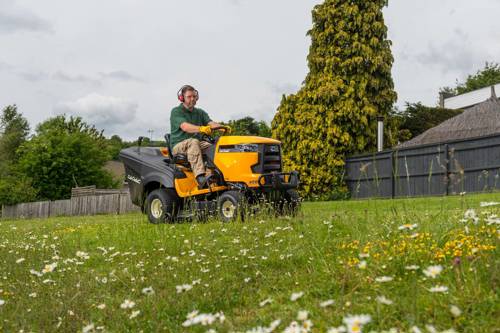 First on the list is perhaps the most essential landscaping power tool you can own as a landscaper: a lawnmower. It's a staple in any landscaper's toolkit and will be used on nearly every job.
When maintaining large lawns, a ride-on mower with a cutting width of at least 30 inches is a good investment to make. With the everyday use of this item, beware of opting for a cheaper model as it may cost more in the long run. 
Cheaper machines are often of lower quality, meaning they'll need replacing more frequently and could spend more time in the workshop for repairs than out on the job. A less reliable machine may also not deliver the standard of cut that you or your customer may expect, which could leave them dissatisfied and your reputation as a landscaper in question.
A mower with a powerful and reliable engine on the other hand will take you a long way, reducing downtime and producing a finer quality of cut to add to the portfolio.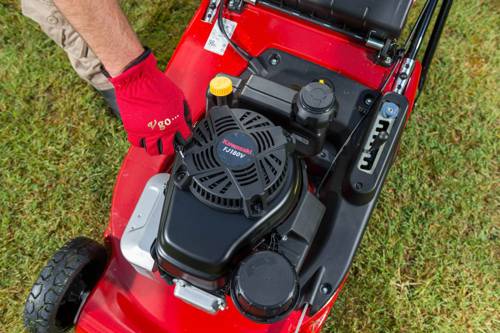 With so many to choose from, here is a quick breakdown of the different types of mower you might consider:
Walk-behind mowers

– powered by an engine or motor but controlled by an operator walking behind, making it ideal for smaller gardens

Standing mowers  –

stand-on mowers have quick on and off access so are especially useful for commercial contracts, maintaining roadsides, highways and parklands

Front mowers

– a ride-on mower with a front-mounted cutting deck that allows for a better view of the cutting area and oncoming obstacles

Zero-turn mowers

– highly efficient with a

360-degree turning circle, which enables the operator to cover an area quicker

Lawn tractors

– these machines are a sturdy and versatile addition to your toolkit, with the option for a variety of attachments, they are best suited for larger gardens

Remote controlled slope mowers

– highly specialised equipment for the most challenging of mowing environments that are unsafe for conventional mowers to access.
Brushcutter 
So much of landscaping is in the finish. This power tool is perfect for cutting through long grass and weeds, with more powerful and professional models also able to tackle dense overgrowth, shrubs and even bushes. A neat finish can be achieved no matter the original state of the garden, without the need to spend hours using shears to cut back unwanted foliage. A brushcutter can also clean up edges where a traditional mower can't reach, such as around flower beds and at the edges of steps and trees.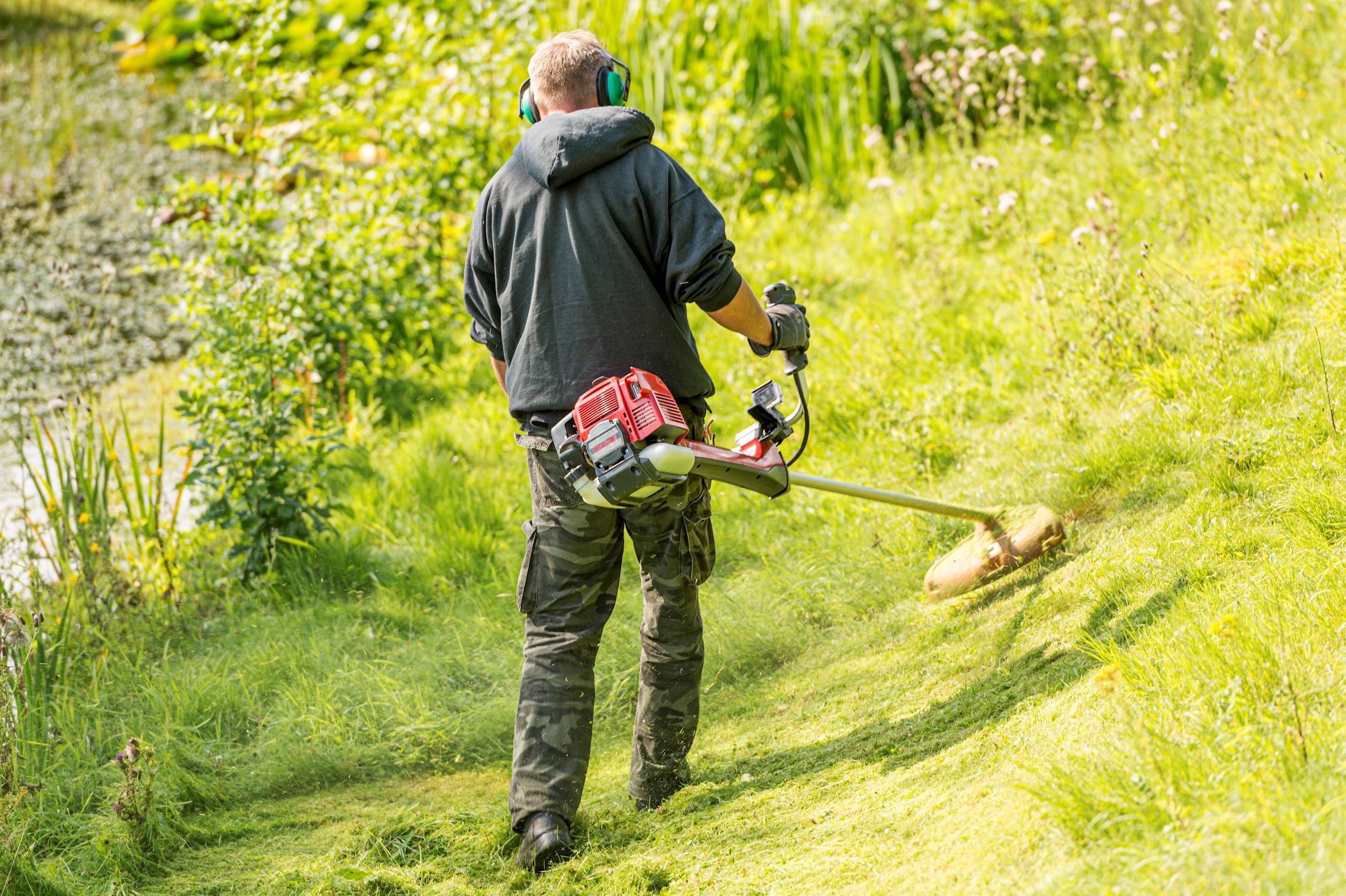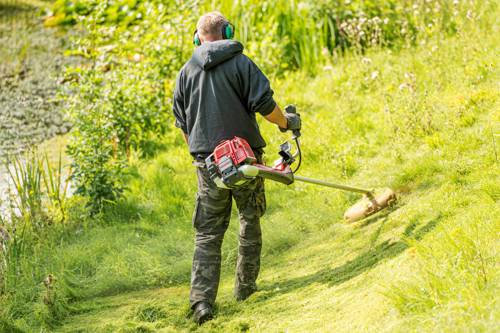 Lawn aerator
Lawns can easily become compacted with heavy traffic from both machines and footfall. A lawn aerator will not only break up this compaction by punching holes into the soil, it will also allow valuable water and nutrients to access the roots of the grass so that come spring and autumn it can grow green and luscious.
A lawn can be aerated through manual spiking equipment, but the effect of a power tool is unmatched and better suited for the workload of a landscaping business, as it will provide a more even aeration for a pristine and uniform finish.
Leaf blower
When it comes to large lawns or grounds, clearing fallen leaves and other garden debris with a rake is inefficient. A leaf blower can save you both time and labour. They're powerful tools, so it's advised to look into machines with a powerful engine to get the best value out of your kit. Alternatively, a lawn tractor with a leaf collector attachment works very well for larger areas.
Hedge trimmer
It's not all about lawns. Landscaping is about the complete package, something a quality hedge trimmer will provide. It's paramount that the same level of attention is given to hedges as the lawn; something that's no easy task with the level of precision and control hedge trimming takes. Just as a poorly cared for lawn stands out as much as one in top condition, a poorly maintained hedge can distract from an otherwise pristine garden.
This machine will be handled for extended stretches of time, so it's important to find a machine that is easily manoeuvrable to prevent fatigue from setting in and allow you to maintain close control of your work, for that beautiful finish.
Multi-tool
A multi-tool can drastically expand the capabilities of a landscaper with just one simple machine. Interchangeable attachments allow operators to complete several duties including hedge-cutting. They're great space-saving tools, but even so, it can be easy to get carried away and opt into a model with the widest range of attachments. To avoid taking up valuable space in the workshop, only buy the attachments you'll use frequently and actually need, and think carefully on how to store and organise them to ensure their longevity.
Hand tools (long and short-handed)
Tick off the basics with these essential manual tools.
Spade
A spade is a key component of any landscaper's toolkit, and one you'll likely use the most often. 
For the best results, consider the design of the handle. A spade with a stainless-steel handle will prevent rust and can be wiped clean after a hard day's work, while a fibreglass handle can provide much more flexibility than wood. Keeping the blade sharpened will also help you to get the most out of your equipment, so it's advised to file your spade a few times each year.
Garden fork
A garden fork is a tool that will be used on a daily basis to take care of a lawn's soil. It can easily be used to break up dirt, work compost and fertilisers into the ground and gives enough control to remove plants from soil without damaging the roots. 
Like with the spade and other long handled tools, it's wise to consider the handle being used, and invest in stainless steel prongs to ensure the tool will last.
Rake
For smaller gardens a leaf blower may not be needed, sometimes a rake can be a quick and easy solution to small quantities of garden debris. When it comes to rakes, there's two kinds that you'll want to have on hand:
A leaf rake is ideal for leaves, twigs and other lightweight detritus, however for tougher jobs you'll want a steel rake head at your disposal. A level-headed steel rake will be able to move soil, mulch compost and gravel.  Though as discussed earlier for larger jobs clearing debris, a leaf blower or lawn tractor may be more practical.
Secateurs
Used for pruning, cutting branches and twigs, secateurs are ideal for working on a smaller scale, and something that are used frequently. They come in two types:
Bypass – these make smooth cuts with two working blades and are perfect for use on living plants

Anvil – these create a crushing motion that is more effective when cutting twigs, stalks and dried-out growth
Trowel
A trowel is one of the manual tools used to dig and plant saplings, uproot weeds and stalks and work with borders full of small plants. The petite size generally limits the damage caused to plants you'd like to remain. 
It's important to keep your trowel in good condition so that it can manage its heavy workload. A stainless steel blade will not only prevent rust, but will make it easy to wipe the equipment clean after use.
Other garden tools
Alongside your machines and manual tools, there are also other gardening essentials that you'll recognise that are key to any successful landscaping business. It may feel like going back to basics but these tools are always useful to have at your disposal.
There may not be any huge surprises here, but it's sometimes worth having a checklist for basics!
Buckets
No landscape maintenance checklist is complete without the humble bucket. It's not exactly an exciting tool, but no good landscaping business can run without them! They're used almost constantly to dispose of waste, carry items and liquid and keep things tidy. A bucket made of sturdy plastic can be both lightweight and undergo years of hard labour.
Wheelbarrow
In the same vein, a good plastic wheelbarrow can carry you a long way – or at least carry your gardening materials! Lighter than steel models, they also won't suffer from rust. For maximum mobility, buy a barrow with a single wheel at the front.
Safety gear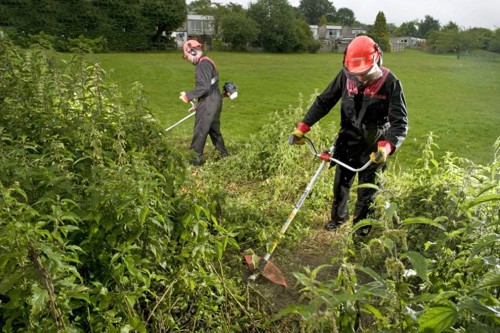 Perhaps the most important piece of gardening equipment of all is the safety gear that comes with it. When dealing with powerful tools and sharp blades it's important to head off accidents before they can happen. The below list is by no means comprehensive, but includes the key pieces of safety equipment that all landscapers should have before setting off on the job.
Ear protection – for working with power tools for prolonged periods

Eye protection – to safeguard against flying debris

Safety gloves – for a firm grip on tools and to protect from scratches or getting blisters

Sturdy non-slip shoes – snug shoes that will prevent entanglement with equipment and foliage. Consider steel capped boots if your landscaping business includes tree surgery.
Not essential tools, but nice to haves
We've covered the essential tools and machinery that any professional landscaper should consider when building their toolkits; equipment that it would be difficult to complete a typical landscaping job without.
But that is just the beginning! There are tools that don't need to be at the top of the list when purchasing new equipment, but having them on hand could seriously help you to save on time and labour. Take a look at some of the tools that might be nice to have if you want to specialise in certain jobs and have the budget to spare.
Pressure washer
If your business isn't focused solely on soft landscaping, having the right tools for diversifying your services could be a smart move. Rejuvenating aged surfaces and garden paths can be a great add-on service to see landscapers through the quieter months, not to mention pressure washing after a job provides a nice final touch to projects and counteracts any of the mess made during the landscaping process.
Just as soil will get compacted due to regular traffic, that same dirt can also get compacted into hard and concrete surfaces and can make an otherwise well-kept garden look unkempt. A good pressure washer will keep customers happy and help your landscaping business by providing a clean final product.
Garden shredder
A garden shredder will help you to make the most of materials that might otherwise be discarded, helping you save on both waste and money. A garden shredder does exactly what it says on the tin – it shreds cuttings to make mulch that can be added back to lawns for valuable nutrients, and will also make wood chips from branches.
Lawn edger
A lawn edger is the key to keeping the borders of lawns and outdoor paths clean and tidy, ultimately giving a professional finish you can be proud of. An edger can be manual, however if you're looking to save hours of labour, a powered machine can be used as either a stand-alone tool or as a border edger attachment on a tiller.
Tiller 
Preparing beds for planting bulbs and flower beds, and preparing lawns to be turfed and seeded are common tasks on the landscaping agenda. A tiller is one of the landscaping machines that is a huge help in this process.
By turning soil using rotating blades that cut deeply into the ground, a tiller breaks up clods of soil, turning them into fine tilth, getting the ground ready for planting.
Dutch hoe
The most efficient way of weeding a flower bed or garden is with a dutch hoe, making it a useful part of any landscaper's toolkit. The hoe's blade is able to cut each weed from its root centimetres below the surface.
Long handled pruners
Hand-powered pruning shears are the largest type of manual garden cutting tool, and are usually able to cut through branches up to one-inch in thickness. The long handles mean landscapers can prune high branches and trim hard to reach areas. With some models you can even rotate the cutting head to achieve the optimum angle.
The importance of good quality tools
So you know which tools you need, but do you know where to find equipment that will last?
Having the right tools for the job is a huge part of running a successful landscaping business, but more than that, ensuring these landscaping tools are of high quality is vital. Because landscaping is such a labour intensive profession for landscapers and their tools alike, it's important that equipment can stand up to the job.
The quality of equipment is even more essential with powered machinery as this type of equipment is no small investment, so it's important that you buy a machine that you can rely on to perform consistently. It is vital to look at the quality of the engine as this key component is as important as the quality of the machine itself.  Kawasaki Engines have been manufacturing high-performance, high-quality engines for decades, and have built a reputation that any professional can be confident in. See why Powered By Kawasaki ride-on mowers are the obvious choice for professional use.
In our six steps to starting a landscaping business guide, professional landscaper and Kawasaki Engines Brand Ambassador Sam Jarockyj commented on the need to purchase quality equipment right from the start. He advised: "It's better to invest early on if you can. Everyone has to start somewhere, so if you're starting with a pair of shears and a broom just to get you by then that's what you've got to do, but I always advise buying the best possible equipment with the budget you've got."
"Look into manufacturers and the known brand names – organise demos where you can – and make an informed decision."
There's no need to leave it to guesswork when investing in your toolkit; take a look at our buyers guides for brushcutters, multi-tools and ride-on mowers so that you can be as confident in the tools you're using as you are in your own landscaping expertise.
So that you can be certain in your purchasing decisions, we only partner with manufacturers that can match the quality of our engines, producing essential, long-lasting equipment that will be invaluable to your business.