Small business marketing for landscapers: your 1 year marketing plan
5 Dec 2022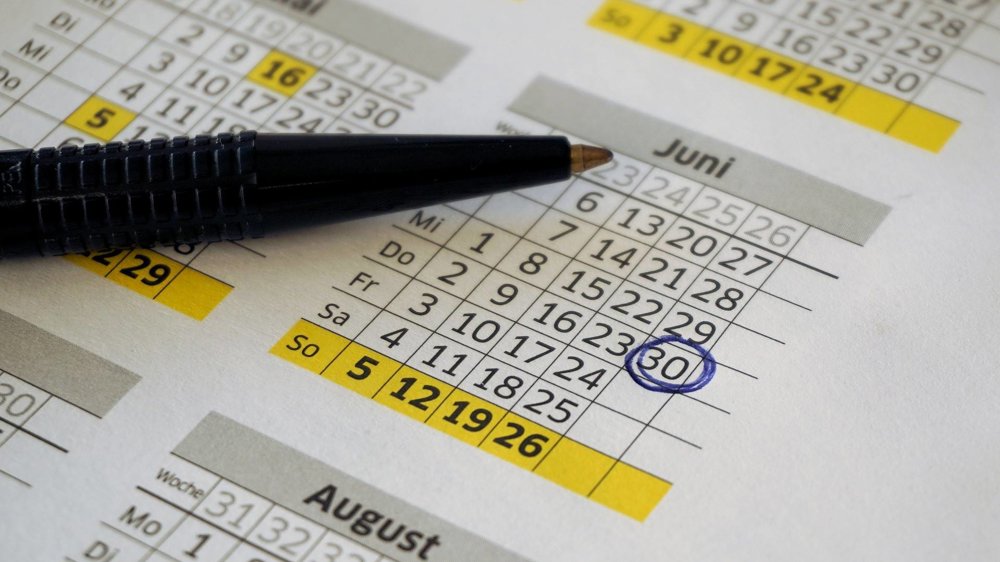 The world of marketing can seem overwhelming. Owning a small business, especially in a physically demanding job like landscape maintenance, can make even thinking about a marketing strategy feel exhausting.
But you shouldn't ignore marketing. When you're a small business owner, the work itself is only one part of running the business. You could be exceptionally skilled at your job – and managing a team, if you have one – but if you're unable to reach new customers, you will find it harder to succeed.
We've developed a month-by-month guide on how to market a landscaping business for a single calendar year, breaking a strategy down into easy-to-follow steps that take into account the schedule of a professional landscaper.
Your landscaping marketing strategy for the calendar year
A small business marketing strategy might not be on the same scale as that of a larger company, but it still needs to be carefully thought out and considered. A small business has fewer resources and less time, so needs a realistic and effective strategy to implement.
A good marketing strategy can put you in the position of turning away work, rather than searching for it: once you have established your business and made more customers aware of your services, you're likely to have more trouble managing your schedule than attracting new business!
Can you just rely on happy customers and word of mouth?
Many more experienced landscapers may argue that happy customers do the marketing work for them. Word of mouth is a great tool but takes time to develop within a community; it's a long-term goal, rather than an active marketing strategy.
Though marketing may not come naturally to some people, many of whom may prefer to focus on the more practical sides of the job, if you want to boost your business within a year, you'll need to do more than rely on word of mouth. If you're serious about expanding your business – or starting from scratch – you'll need a marketing strategy to help you reach potential customers.
This marketing calendar will help you plan your year month-by-month, growing both your small business and customer base in 12 months.
January
In the dark winter months, the outdoor, practical side to landscape maintenance is reduced to the bare minimum. It's the perfect time to work on marketing your business. You'll want to get the majority of your marketing efforts sorted in winter, as by the time spring rolls around, you're likely to be rushed off your feet.
Start small to avoid overwhelming yourself.
The first step in any marketing strategy, small business or not, is figuring out your target audience and carrying out research. Do you want to target commercial customers or residential? Take a look at competitors in your area - is there anything they're lacking? Is there a gap in the market that you can take advantage of?
It may be a sector of the commercial market that is untouched, or a particular service that isn't offered – it could even be a lack of personal customer service. Find a gap that you can target or aim for your ideal customer base: research is the start of any effective marketing strategy.
Make a logo
If you haven't already, you will want to create a business logo, or, if you aren't particularly creatively inclined, outsource it to someone else to design.
A logo is a marketing tool in itself – an instantly recognisable visual that represents your business – which can be used on everything from business cards and van livery to items of clothing. If you want to keep this low cost, there are a few free tools you can use; Canva is a great option, it's simple and intuitive to use, which makes it easy to design your own.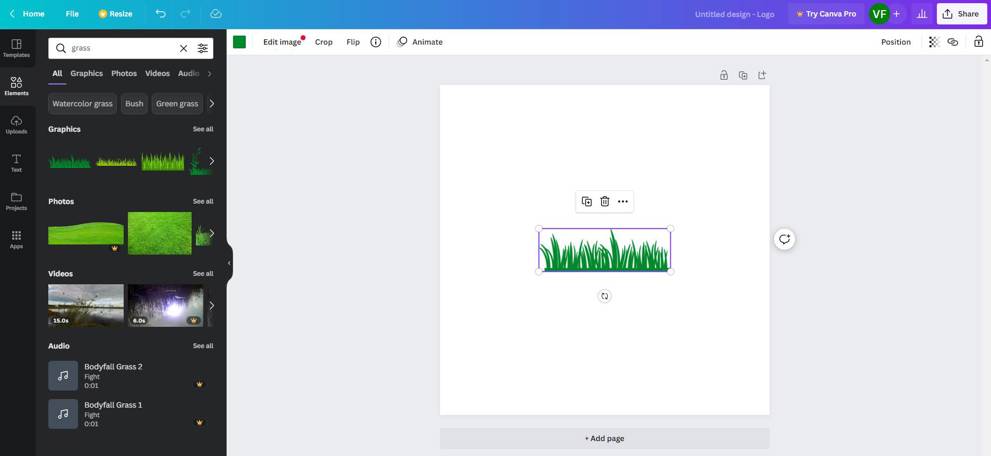 Start offline marketing
Online marketing offers a world of opportunity for small businesses, but the marketing you conduct offline can be just as fruitful. Many potential customers, particularly in the residential sphere, may not be comfortable online and can only be reached through more traditional methods.
Getting leaflets printed is an effective way to make your presence known in your local area. Pinning marketing materials like leaflets and flyers to local bulletin boards or posting them through the doors of a target location are tried-and-tested methods of small business marketing.
Simple, straightforward marketing efforts can have a big impact on your business. Even having embroidered clothing and a van with your business logo on it can increase brand awareness, as people will see it while you're out working.
Marketing initiatives don't have to be complex; paying customers can come from many sources, so the older methods like business cards and flyers shouldn't be ignored.
February
It's time to start on something that often strikes fear into the hearts of busy landscape maintenance business owners: social media.
The large, convoluted world of social media platforms can seem intimidating. With so much choice, where do you start? A strong online presence is vital in expanding your business, and online visibility can be the key to reaching countless potential customers.
A common issue you'll find with a small business marketing through social media is that they'll try to do everything at once. In the hopes of reaching everyone they possibly can through social media – and setting up several accounts across all the platforms – they will manage them poorly, and quickly burn out and quit altogether.
Pick 1-2 social media platforms
Facebook, LinkedIn, Twitter, Instagram, TikTok, YouTube; there are so many to choose from that any attempt to do all of them at once is doomed to fail; selecting a maximum of two will make your life a lot easier.
These are all essentially free promotional tools, and you get back what you put in as far as marketing a small business is concerned.
When it comes to choosing a social media platform, play to your strengths. If you excel at taking photographs, you're likely to find joy on Instagram; for short, snappy videos, TikTok (although it's worth noting that the demographic is young, with the largest number of users in the age 10-19 group and unlikely to be potential clients). If you have little interest in any particular platform, then Facebook is a good all-rounder. It's easy to use and will help you to reach a wide variety of people online.
You do, of course, have to think about your target audience when choosing a platform, which is where your research will show its worth. If you are hoping to reach commercial customers you may find LinkedIn is a useful tool; for residential you'd be better off with Facebook or Instagram. For more information on choosing a platform, read our blog on how to build and grow your business.
If you're wondering what to post, just keep it simple! Post photos of your work, update customers on your latest projects and comment on industry topics. It's important to interact with your customers if they comment on your business page; especially if it's a review! Don't be afraid to show your personality by sharing stories and anecdotes, but it's wise to steer clear of controversial topics that may upset your audience.
Digital marketing, and social media especially, is a great, low cost way to promote your business. It shouldn't be intimidating – even if it's daunting at first, you'll quickly get the hang of it.
March
Keep in mind that social media marketing rewards consistency, so as soon as your accounts are up and running you should post as regularly as possible. Try to post a few times a month at least, even if you're busy.
Going forward throughout the year, social media should be a continuous part of your marketing strategy; whether or not it's mentioned under each month in this marketing calendar!
Google my business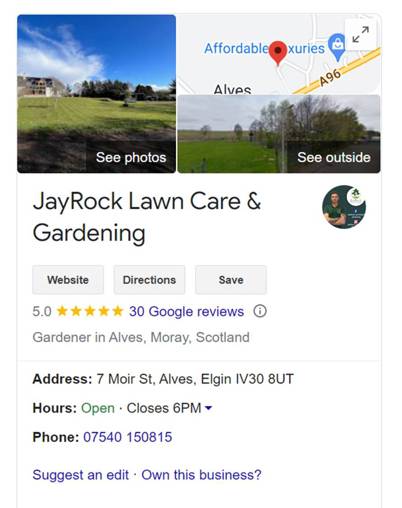 Your new task for March is setting up a Google Business Profile (formerly Google my Business) account. If you want your business to appear through a Google search and give yourself an advantage against a direct competitor online, you need to be visible on Google.
A Google Business Profile lists all the important information of your business to any customers searching for services in your industry. This profile is what makes certain companies appear on the right side of a search on Google, or as a business on Google Maps. An online search for services is becoming an increasingly common part of the buying process, as it's a convenient way for customers to find you and read reviews.
A business profile on Google gives your business some legitimacy and helps you stand out from other local businesses.
If you want your business to be one of the first on search engine results pages, you'll need to think about search engine optimisation (SEO). This is where certain keywords are included in your profile to match up with what potential customers are looking for, making it more likely you'll appear at the top of the page.
Fortunately for landscapers, local SEO, where the keywords are tied to a particular location, is easier to rank for. Make sure you use keywords like the town and area you're targeting, as well as the services you offer. Add all the necessary details and photos to your profile and go through the verification process – usually a phone call or a letter – and you're all set.
April
Build a website
As your small business expands, you will want a website to direct potential customers to. Here, they can have a look at your previous work, read reviews from existing customers, see your minimum prices or hourly rate, and be directed to you for a quote. You can even set up a form where they submit their email address (which will be useful later) and describe their query.
Building a website sounds like a huge task, but it doesn't have to be. You don't need to be a web developer; it's simplest if you use a website builder like Wix or Squarespace. These services offer website templates where you simply need to add your own content. If possible, the writing on your website should be SEO friendly to help it rank on Google. If you're not sure where to start when it comes to finding keywords, try a free tool like Google Trends or Keyword Surfer.
Google ads
If you're concerned that your workload heading into peak season is looking a little light, you could use Google Ads (formerly Google Adwords) to boost your visibility to those searching online. You can put your brand new website at the top of searches for your target market, ensuring your business is the first for potential customers to see.
May
Adverts in local newspapers may seem a bit outdated, but print advertising is still effective, and can be especially so for people targeting a local community. Placing a small ad in a local newspaper or magazine (online or offline formats) with your business details is an easy way to promote your business. It increases brand awareness in your local area and gives a short-term boost to your prospects.
Reviews and word of mouth
Word of mouth is a powerful tool. If you have extra capacity to take on new clients, there is no harm in letting your existing customers know you have time available. It may come up in conversation with friends or at work that someone is looking for a landscape gardener; by informing your existing customers that you have the capacity, it may make them more likely to think of you.
When local businesses compete against each other, often the deciding factor for customers will be reviews. People want to know that you're reliable and do a good job; reviews will be one of the first things they look for. Encourage your customers to leave a review to build trust online.
Email marketing
If you're interested in getting involved with email marketing, you could start gathering emails from clients – either through your website or in-person – to build a database. You can attract business from previous clients with special offers, or send out an email each season to keep your customers updated. Keep in mind that any email activity you conduct will need to be in line with data protection laws and GDPR – for an idea of what this means in real terms, this article might help you understand.
June
While we wouldn't advise taking on any new marketing initiatives as peak season starts to approach, you should be careful to maintain your efforts on social media.
As your work picks up, remember to take plenty of photos of your projects: a before and after photo is the perfect way to show off your work online. If you remember to gather your online assets like pictures and videos through the summer, you'll have high quality content to use all year.
If you have a bit of spare time this month, consider preparing the posts you'll use in July and August now to save yourself the worry. You can even schedule posts in advance on Facebook, Twitter and many other platforms, so that by the time July and August arrive, you won't have to think about social media at all.
July
In the peak months of the year, marketing will inevitably become less of a priority. As your time is spent outdoors working long hours, there isn't enough time in the day to worry about attracting new customers.
The logos on your van and clothing will be working overtime in the marketing department, as the amount of time you spend outdoors and moving from job to job will increase your visibility in the local area.
If you haven't scheduled them already – or use a platform without that capability – keep posting on social media accounts, as this is a great time to interact with your customers. They'll have plenty of queries and you have lots of material to share.
August
August is an unpredictable month for both workload and weather, where a landscaper's schedule can either be packed with work or emptied by an unfortunate drought. Typically though, just like in July, there's no time to be actively searching for new business.
What you should be doing, however, is taking advantage of your workload to gather new content. Taking photos of your work through the busy summer is a great way to guarantee you'll have things to post in the off-season. It's also a good time to ask your satisfied customers to leave a review on Google. Or if they're not able, a written testimonial and the permission to use this on your website and social media, is just as valuable. And for your social media savvy customers, you could encourage them to post their own images on their channels, too, tagging your business.
September
September is still busy for landscapers, but usually isn't quite as hectic. This is the ideal time to forecast your workload for the rest of the year. Do you need a short-term boost in marketing or are you content with your workload, and happy to stay with longer-term marketing efforts? Ads, both in the local press, and on Google and social media, can give you a short-term boost if you need it.
Much of online marketing is about consistency and communication. Maintain your efforts to see the best results; check your flyer or business card is still on a bulletin board, keep posting on Facebook, LinkedIn or whichever platform you chose, and continue to encourage customers to leave reviews.
Take the time to update your website and business profile on Google; it's likely that many local businesses won't have either of these tools, so making sure that yours are up-to-date and professional will make your business stand out even further.
October
If there were any marketing ventures you were interested in taking on before but haven't had the chance, now is the time to try.
One that often comes to mind is video marketing; making your own Reels on Instagram, posting to your YouTube channel or starting out on TikTok. If you have the time, video marketing is a fantastic way to engage your audience and build relationships with potential customers.
November
Take the time you have spare in November to improve your existing marketing initiatives. Make improvements to your website, make sure your photos are up to date, plan some social media posts; if you've started a YouTube channel or similar, get some filming done – it can be from your smart phone, shot portrait works best.
Landscaping events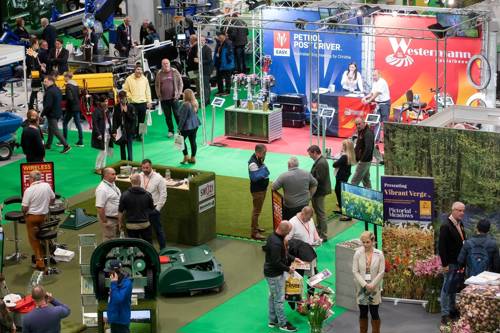 Attending an industry event like EIMA International in Italy, or SALTEX in the UK, is an excellent opportunity for a small business to network and gain some insight into other companies and professionals in the industry.
You can visit the business stand of a brand you're particularly interested in and find out about their latest technology, pick up a few tips from fellow professionals, and learn from people with industry expertise. While you're there, you can also observe how some of the biggest brands market their business in-person – it might give you some new ideas to take home with you!
Keep in mind that though these events are often in November, they can occur in October as well; check the dates a few months beforehand to be sure. If you're unable to attend an in-person event, there are several forums online where professional landscapers share best practice ideas and advice year-round.
December
It's the end of the year, and the perfect time to evaluate what worked and what didn't, and what you enjoyed doing and what you would prefer to avoid next year.
You may have discovered a love of email marketing, or filming videos; if there's a particular avenue you found success with and enjoyed, you can plan to focus on that in the new year. December is a great time to plan for the following year.
Make next year, your year
While small business marketing may require a lot of effort initially, once you have established your marketing initiatives it becomes less time-consuming, as it's more about maintaining what you're already doing.
Being dedicated to your marketing plan will be worth it in the end – having a steady influx of customers removes much of the worry of dips in workload, and marketing gives you room to expand your business. With expansion comes a more strenuous workload – even with a bigger team – and the need for equipment that can keep up with the increased demands of your business. Kawasaki engines are known for their reliability and quality, and will be able to cope with any increases in workload without issue. For engines you can trust, explore Powered by Kawasaki machinery today.
For more advice on marketing a landscape maintenance business, read our 18 tactics for marketing your landscaping business.