18 tactics for marketing your landscaping business in 2022
23 Mar 2022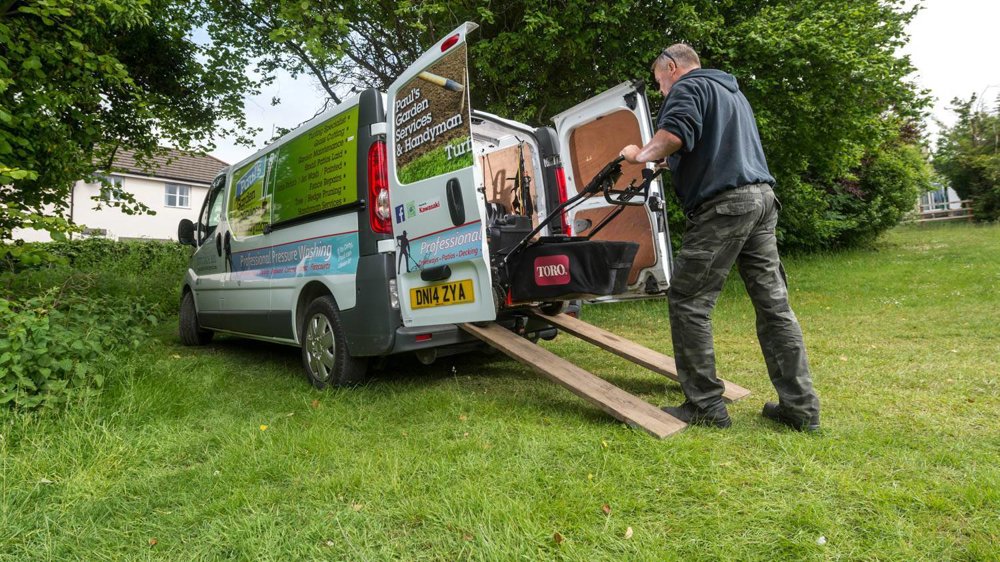 When you're running your own landscaping business, it's easy to give all your time to your clients and machine maintenance.
With little time to spare, marketing your business can seem like an unnecessary chore. However, like accounting, it's an essential part of running a small business. But, like accounting, it's not always easy to know where to start or how to do it in the best way.
Why market your business?
Marketing is about making more people aware of your business, increasing interest in your business and bringing more customers on board. Without it, you will be relying solely on word of mouth. Now, word of mouth is a powerful tool - there's nothing quite like a good customer recommending you to their friends - but you can't actively control it and it will always be limited to people you already work with. To grow your business, it's important to reach new people beyond your existing network of contacts.
This article will give you a few quick and easy marketing tactics that you can deploy to boost your business without spending lots of money or time doing it. These tactics will help you build awareness and customer interest over the long term, without taking up too much time.
It also includes a landscaping business marketing checklist to get you started.
1. Make time
While it can be tempting to put marketing on the back-burner, the first step is to make it a weekly commitment. Even one hour a week - on a lunch-break or after work - will enable you to formulate and execute a simple marketing plan. You could pick one or two of the things in this list to do once a week as a start.
2. Elevator pitch
Marketing people talk a lot about 'brand'. In this context it means, what your company means to people. Think of some famous brands and what they mean: Apple = cool tech; Amazon = cheap online shop; McDonald's = low-cost fast food. Think about Kawasaki Engines. Yes we manufacture engines, but our brand is about durable, reliable, high-performance power for landscaping machinery.
Can you summarise your business and its unique selling point in one sentence? Being able to concisely define what your business means is the key to communicating your offering clearly to customers and potential customers. Note that 'unique' is the most important part of this: what sets you apart from other landscaping businesses?
This statement will help bring focus to your marketing communications.  If you have employees, make sure they use it so they represent your business effectively. 
3. Your logo
Take an honest look at your logo and brand identity or design style (colours, fonts etc.). Is it representative of your business? A brand can communicate messages such as professionalism, quality, expertise, creativity, fun, authority, accessibility or premium. Review your own logo and decide whether it needs modernising or revisiting. A local graphic designer can help you to bring your ideas to fruition.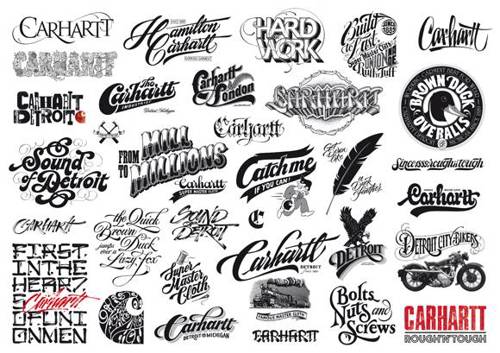 Various logo treatments of the Carhartt brand. Which one do you think says 'premium workwear'?
4. Customer profiling
Customer profiling is just marketing-speak for getting to know your customers. Specifically it means: what do they want from you? What problems are you solving for them? What do they see as success? How do they like to purchase? How does what you do fit into their life?
While thousands can be spent on customer profiling - getting to know your market - even writing a simple profile of each 'type' of customer will help you to focus your marketing communications.
This might be as simple as identifying that you have broadly two types of customer:
affluent, 40-something homeowners wanting to invest in a full garden redesign
retired homeowner in a small suburban dwelling requiring assistance with garden maintenance.
To build up your idea of who these people are and how you might reach them, answer the following questions:
What publications do these people read?
What social media do they use?
What sources do they trust?
You might learn that the fastest way to reach the first customer 'type' is by having an interesting Instagram profile of your work, whereas the second customer 'type' trusts word of mouth and reads a parish magazine. Here you will get some clues about ways to target your likely customer, or even identify new customers you'd like to start approaching. It will also tell you why they want to employ a landscaper: is it pride? Do they love nature? Are they gearing up to sell their property? Do they have a family? This will help you write a message or post that resonates with your customers, when you talk about your services.
5. Marketplace research
In the same way that you should know your business inside out, you should have a firm grasp of your competitors too. Pick two local competitors and answer the following questions:
Who are they?
What services do they offer?
What areas do they cover?
How do they differ from you?
What type of customers are they going after?
Is their website more professional?
Are they cheaper?
Do they focus on a particular type of gardening project?
Are they on social media?
Identify any gaps and areas where you could improve.
This will help to ensure you remain competitive.
6. Have a plan
Working in landscaping you'll be in tune with the seasons and adapting your work to fit the weather. In the same way you think about the seasonality of your business, think about the seasonality of your marketing.
Write a 12-month calendar, including significant events, promotions, milestones and key times of the year. Use this to define when you might have more time to devote to some marketing activity as well as the key messages you'd like to share with potential customers.
You're likely to spot trends such as people investing in lawn care between March and October, or that winter is the most common time to start planning a garden renovation project.
Once you know what services people want at each time of year, you can be ready with appropriate promotional messages before the demand comes. It will give structure and clarity to your communications as well as ensure you're offering what people are looking for, when they're looking for it.
7. In it for the long term
Advertising  - whether online or in print - can help to drive enquiries in the short-term, while the advert is running. Marketing - for example sharing pictures of your work on social media - works more gradually over the long term. While advertising sells services, marketing helps to sell your 'brand': who you are, what you stand for, what you deliver. For example, you may not have seen an advert for Red Bull recently, but you know who they are and what they sell. That's brand.
As such, don't ramp up your marketing efforts and expect to see an instant return. It can take years to build a brand, so understand that marketing activity takes time to come to fruition. Advertising also works better if people already recognise your company's logo or name - so a small amount of brand marketing over the long term is powerful.
8. First impressions count
What impression do you want to communicate? That you're a reliable and skilled professional who takes his job seriously? Maybe you want to let people know that you're friendly. 
Nothing will create the wrong impression like a dirty and damaged van or scruffy employees. Make sure tools, equipment and vehicles are as clean as they can be (be realistic!) and that employees are well turned out. Branded t-shirts/sweatshirts are inexpensive and help to convey a professional image to existing and prospective customers.
Let your employees know how you want them to present themselves: polite, friendly, helpful.
9. Social media
Social media use across Europe:
UK 66%
France 60%
Spain 62%
Germany 45%
Italy 60%
Portugal 69%.
Within the EU, 57% of people aged 16-74 used social networks in 2020, up by 3 percentage points from 2019. Like it or not, social media is a major source of information for consumers. As such, it is a powerful tool for reaching target audiences. Someone like John Ryan is a great example from our industry. Also, it's free to use so it's well worth setting up a business profile on the platforms that you think you can manage.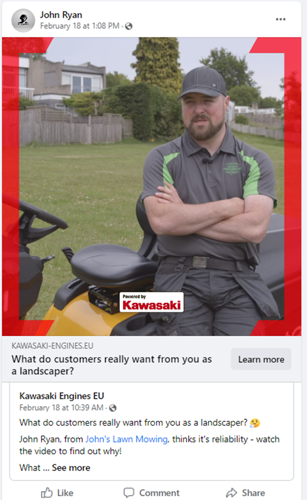 However, don't feel pressured to use them all. Platforms such as Instagram and Facebook, with a strong visual presence, are a great place to showcase your work visually and if you focus on one platform initially, you will have the greatest impact.
10. Community
Whether it's suppliers, manufacturers, clients, supporters, industry experts or horticultural TV personalities. you should start 'following' relevant people or sources of information on social media. You can easily locate people or content of interest by searching for hashtags such as #landscapepro. You'll find lots of creative, inspiring content. Connect with those posting in these areas, comment on their posts and share work you admire. It's reciprocal and the more energy you put in, the greater the sense of community you're likely to get out of it.
Social media is social. Too many companies use it just to advertise what they do and wonder why no one engages. Social media works best when you're not just posting, but liking, following and commenting on other people's posts. This is the way to ensure your company gets seen and you start to build an audience.
11. Share your successes
It doesn't come naturally to everyone, but promoting great work and successes is a good way to demonstrate your expertise.
Have you completed a challenging project to a high standard and do you have some attractive photos which showcase it?
Have you won an industry award?
Have you been awarded a high-profile contract?
Whether it's posting an update on your social media channels or contacting an industry publication or local newspaper to tell them about it, you could raise the profile of your work and attract new business.
12. Google Reviews
Small business owners cite Google Reviews as gold dust. They are a way for customers to endorse you and leave a review of their own experiences of dealing with your company. They are increasingly a place where potential customers go to get honest feedback on your work before they decide whether or not to engage you themselves. So be proactive and don't be ashamed to ask happy customers to leave you a glowing review.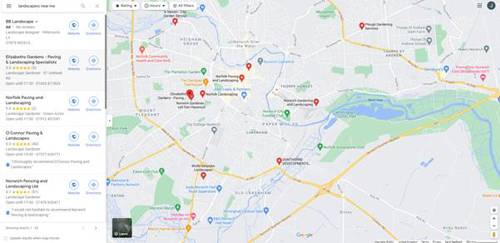 13. Boost skills
Local networking groups or organisations often hold free seminars to help businesses improve on their marketing. Whether it's a digital marketing breakfast or a PR masterclass, these free sessions are great for giving you ideas for marketing your own business. Plus they're a good networking opportunity which can generate new business enquiries as well.
14. Incentive schemes
Word of mouth is as powerful as it's ever been and people value a personal recommendation when it comes to tradespeople or services at home. Have you considered setting up a 'recommend a friend' scheme offering a discount against the first booking? Or do you reward longstanding repeat customers with a special offer, gift or free lawn treatment? Making customers feel valued, particularly if they've been loyal for some time, is a great way to retain business and gain more.
15. Make yourself the authority
As a landscaping professional, you will have lots of tips and advice for tackling common garden projects. This knowledge is currency which can translate onto social media, feature in a video or in a column for a local newspaper. Whether it's top tips for pruning roses, how to design a new garden layout or best tools for tackling hedge-trimming, you can share some of your expertise to benefit others.
This not only builds awareness and demonstrates that you are a qualified, expert voice, but it gives people added value in engaging with you. It might convert into a boost in new followers or clients - particularly if people share your story with others. Either way, put your expertise to good use and reinforce your brand as a leader in its field.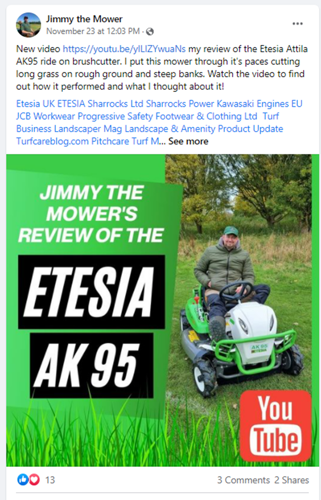 16. Share your experiences
Whether it's going to a tool demo, a horticultural show or an industry conference, show potential customers that you're active, interested and engaged in the industry. It could be a sneak peek of something you've seen, an update on why you're attending or communicating knowledge you've taken away, customers and prospects will be impressed with your commitment to ongoing personal and business development. So share that selfie at your dealer, garden centre, event or course to reaffirm your position at the forefront of your industry.
17. Capitalise on the downtime
While landscaping is a year-round endeavour, some months are quieter than others. If there are seasonally quieter months of the year why not pre-empt their arrival by drumming up some more business before it arrives? Or if you'd prefer to do something forward-thinking, why not use the downtime to plan your next marketing initiative? It's a good opportunity to forecast the year ahead and map out the brand-building or promotional activity you have planned.
18. Do, review, amend, repeat...
You may trial new methods or implement some marketing strategies to see what works well for your business. Every business is different and, until you trial something, you won't know what methods work better than others. So make sure you remain consistent, give it a shot, then review after 12 months. If it's not working, assess why and adapt or evolve your methods. Although remember, marketing is accumulative and it can take time for you and your brand to become better known in your area.
While juggling marketing alongside the day-to-day requirements of running your business might seem like a big commitment, often getting started is the biggest step. Make 2022 the year you commit to enhancing your marketing activity and see what results you can generate!
Landscaping business marketing checklist
So you've read about the options and opportunities. Still feel overwhelmed? Just follow our simple to-do list:
Allocate an hour each week
Define your elevator pitch
Do a branding audit
Profile your customer types
Do some competitor research
Define a plan of activity
Pick a social media channel (we recommend Facebook or Instagram) and start a business profile
Follow relevant businesses, groups, organisations and people in the community
Share your successes - with pictures/video
Ask for Google Reviews
Launch an incentive scheme
Make yourself the authority
Post about what you're up to, where you've been, what you're doing - with pictures/video
Do, review, amend, repeat…
For more tips on how to market your landscaping business, read Small business marketing for landscapers: your 1 year marketing plan.