Introducing our next brand ambassadors: Busy Bee Gardening
28 Jul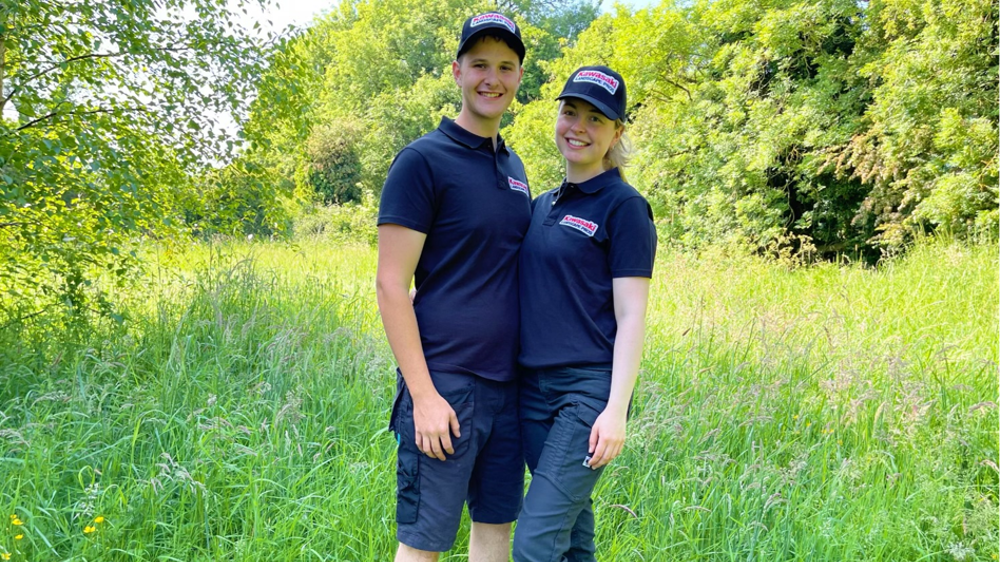 Names: Cian & Holly Beeston
Business: Busy Bee Gardening
Date: July 2023
We're excited to welcome our latest Kawasaki Engines Brand Ambassadors – Cian and Holly Beeston! Cian and Holly are a married couple running their own landscaping business, Busy Bee Gardening, in central Ireland. 
We spoke to them both to hear their thoughts on becoming brand ambassadors, and to find out a bit more about the couple and their business.
What appealed to you about working with Kawasaki Engines?
Cian: We're looking forward to working closely with a reputable company, one that's known for making very reliable engines. It's cool to know we'll be representing a brand we actively use and trust.
I'm also a bit of a gearhead – I love machines – so I'm really interested in knowing more about how things are made!
How did Busy Bee Gardening start?
Holly: I joined the business at the start of 2022, but Cian started Busy Bee before we married.
Cian: I've been self-employed for about four years, but I've worked in gardening for six in total. I started off working at a stately home that was open to visitors, which had about 40 acres of land; I used to cut the grass and look after the gardens there – I learned a lot about the work during this time of my career. When Covid hit, I was no longer needed, so I decided to start my own business.
I didn't want to sit around and wait for something to come up – I had a few customers already, so I thought I would try to go it alone properly and build my own business. At the time it seemed like a good idea! So I bought a trailer, purchased a few tools and started from there. 
How did you meet?
Cian: We met each other through friends after Holly moved to Ireland in 2015. We became good friends first, but have been together since we were 16/17 – we were married in 2020! 
It's quite rare to find married couples working together in this industry. How do you find working together?
Cian: I love it. It's like you're working with your best friend, it's not a colleague. It's someone you fully trust, not someone you don't really know.
Holly: We both know that we're going to do our best. We're a real team – no one else would be as committed as we are. It's our livelihood, our household income. I know Cian will do his absolute best, and he knows the same for me. There's a dedication to the business that I don't think anyone else could match.
Cian: You know each other so well. We know what each of us is better at, what our skills are, what we can manage: it's easy to find the right balance. There's no risk like there would be with hiring someone you don't know. And it's allowed us to spend more quality time together; Holly used to work late evenings, so we didn't get to see each other. 
There's a very relaxed atmosphere at work. We're not a massive company, we're a small husband and wife business – that's what we really love.
Holly: Our customers can relax around us – they're comfortable joking with us. We don't take ourselves too seriously! As a small business, we can build nice relationships with our clients. 
Have there been any challenges along the way?
Holly: There were some teething issues at the start. Cian was used to working alone, and I was completely new to the job. It took us a little while to find our rhythm.
Cian was used to working at his own speed – obviously we have different physical limits, and I can't work at the speed that he does all day. That was a struggle at first, but we learned how to manage our schedule, and now we're used to working together. 
My stamina and skillset has improved massively since I started, but Cian also knows now that sometimes I might need to do the less physically intensive jobs towards the end of the day. I'll jump to the more intricate tasks, like neatening areas or checking for anything missed; I'm a bit of a perfectionist, so I like to make sure everything is finished to a high standard.
We're more than halfway through 2023 – how has the year been so far for you?
Cian: It's been good. Really busy. We've taken on a few new clients and some bigger houses; just overall growing the business. We were new to the area in 2022, and it takes a while to get established – especially as business in Ireland works through word of mouth more than anything. 
We're starting to put down roots now, which is exciting.
Holly: Our name has got out there a bit more. The customers we do have often tell us "oh, I know someone that needs a gardener". Our customers recommend us to people they know, and we've gained a few more customers that way. 
Any hopes or aims for the next 12 months?
Cian: Keep it going. We're not looking to grow majorly, more just to get settled with what we have. We have more business than we did this time last year, I think we're comfortable with our customer base at the moment.
What do you love most about your job?
Holly: Being outside. Not so much the rain! But when it's sunny, I love it; enjoying the weather, hearing the birds, just being outside. I also love meeting our client's dogs – when we're working, sometimes they'll come over to me to say hello. It might not be the most productive, but I can't resist stopping and giving them some fuss.
Cian: I like being in nature all the time – you're seeing plants, a lot of animals, birds; I even find seeing little insects interesting.
Holly: Bees! We love bees, being Busy Bee.
Cian: That's what I love about it – you're outside and you're in nature all the time. I'm a bit opposite to Holly with the weather though; I'd rather be working in the rain than in 25-degree heat! I think you get more done when it's freezing cold.
What's your favourite Powered by Kawasaki machine?
Cian: We love the FJ180V on our Husqvarna lawn mower. I actually really enjoy that engine, just because we've never had a problem with it, in nearly two years now. It's very much a tank, it feels bulletproof. We never seem to have a problem with it – it just eats through everything, no matter what you throw at it.
Favourite season?
Cian: Spring, definitely. Everything's just starting to pick up after a cold, dark winter. It's starting to brighten up, longer evenings, all the spring bulbs are coming up, lambs are in the fields. It's just a lovely time of the year.
Do you do anything to make the workday a bit more fun?
Holly: We have picnics at lunchtime! It's nice to just sit outside in the sun. Sometimes we'll get ice cream – or more like, I'll ask Cian if he wants an ice cream, he says no, then asks if I want one, which is always a yes. 
Fun fact about yourselves?
Cian: Holly doesn't tan. She can be outside all day and not tan – and she's not even Irish! 
Holly: Cian doesn't like woodlice. He gets really creeped out by them – I'll pick them up and Cian will wince.
Anything else you would like to say about Kawasaki Engines?
Cian: The engines are reliable, trustworthy, and in our experience, bulletproof!
Thank you both for speaking with us. We're so pleased to have you onboard!
We're delighted to welcome Cian and Holly as Kawasaki Engines Brand Ambassadors – follow Busy Bee Gardening on Instagram and keep an eye out for more Kawasaki Engines content!
Do you share Cian and Holly's appreciation for Kawasaki Engines? You could be our next ambassador! We're looking to welcome brand ambassadors across Europe who share a love for landscape maintenance and quality equipment. 
Find out more about becoming a Kawasaki Engines Brand Ambassador here.