First two Kawasaki Engines Brand Ambassadors unveiled
13 Dec 2022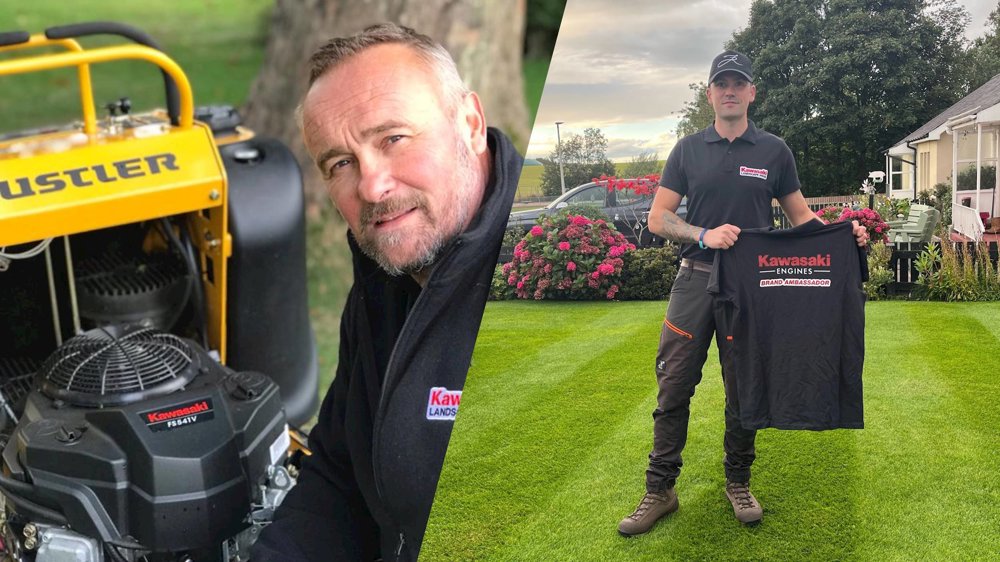 We're excited to reveal our very first Kawasaki Engines Ambassadors! After years of working with equipment powered by Kawasaki Engines and appreciating the quality and reliability that comes with them, Paul Griffin and Sam Jarockyj are joining forces with us to become official Kawasaki Engines Brand Ambassadors.
We'll be working with them both to share their incredible knowledge, industry insights, tips and best practice advice. So look out for more information to come on our website and social channels!
Sam and Paul are expert landscape professionals who have worked hard to build their businesses from the ground up. But while they share a love of Kawasaki Engines and providing a high quality service, their businesses are at different stages, and they each offer their own perspectives on the industry.
Sam Jarockyj owns and runs Jay Rock Lawn Care & Gardening in North East Scotland, a business he started in 2020 after determining his passion for lawn care and landscaping could be transformed into a potential career. He's achieved great success in a short time span, and has also shown some excellent marketing skills, gaining a strong following on social media and providing inspiration for others looking to make the jump.
Sam is excited to develop his relationship with Kawasaki Engines, as he's relied on Kawasaki-powered equipment to get his business up and running. 
"Using reliable, high-quality equipment has been crucial to the success of my business. If you can't trust your equipment, you'll end up disappointing customers and losing profits fast - thankfully, that's never been a problem with my Kawasaki-powered equipment. I'm looking forward to taking this next step and forming a partnership with Kawasaki Engines, as I love the brand and think we're a great match: I work hard to be reliable and do a high-quality job, and I've found that my Kawasaki-powered equipment helps me do that".
Paul Griffin has over 30 years of experience in landscape maintenance, starting his career in the industry in his mid-20s. Paul runs his business, Paul's Garden Services and Handyman, in West Yorkshire, England, where he's been working with many of his clients for decades – he claims honesty and hard work have been the secrets to his success, and gains 85% of new business through word-of-mouth. Equipment powered by Kawasaki has been a staple of his career – one of his Kawasaki-powered machines is over 20 years old – and says that their power and reliability is "invaluable".
"I've always shown my love for the brand, and I've used equipment with Kawasaki Engines for years; they've never let me down. You need the right equipment to do a proper job, and most of my machines have Kawasaki engines – which should tell you everything! I have a great relationship with the team at Kawasaki and my local dealer, and I'm more than happy to cement this partnership and become a Kawasaki Brand Ambassador. I'm looking forward to many more years of working with Kawasaki Engines."
Look out for Paul and Sam's thoughts on becoming a Kawasaki Engines Ambassador, outlook on landscaping in 2023, and their favourite Powered by Kawasaki equipment, which will be appearing on the website soon. 
Interested in becoming a Kawasaki Engines Brand Ambassador? If you feel the same way as Paul and Sam about Kawasaki Engines and work in landscape and garden maintenance, you could be our next ambassador! We're looking to grow our Brand Ambassador community across Europe. Find out how you can become our next ambassador here.