LANDSCAPE PROS - agria: innovation, cost versus value, and what makes a great engine
8 abr 2022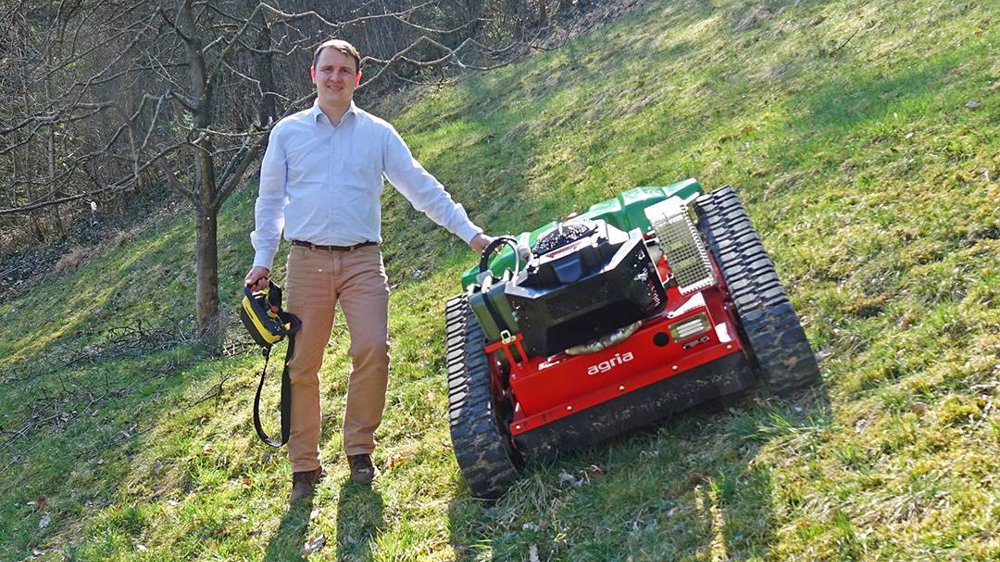 Agria is a leading manufacturer of professional power tools, based in Germany. Since 1947, they've produced a wide range of professional equipment including tillers and rotary mowers. Their latest innovation is the remote-controlled slope mower powered by the Kawasaki FS730V EFI engine.
With 75 years of experience creating professional landscaping equipment, we wanted to speak to Agria to explore how the landscaping machinery industry is changing, what makes a great engine and the importance of value over cost. To answer these and other questions, we spoke to Agria's Shareholder and Managing Director Dr. Goetz Viering.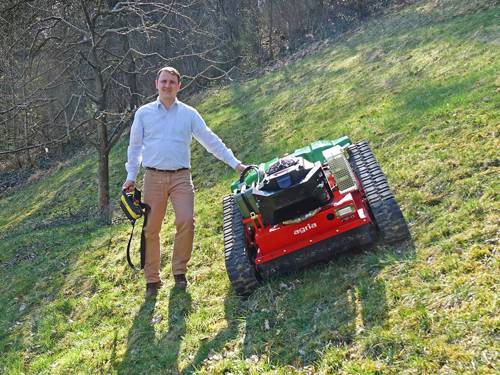 How has the landscaper market changed over the last 10-20 years?
More and more people appreciate the value of nature and green spaces and want to invest in improving their quality of life. This is reflected in the growing demand in our industry. We believe that this increase will continue and the garden industry will continue to develop positively.
Greenery is one of the feel-good factors in our environment that most people no longer want to miss. We notice this in the private sector, but also in public and commercial green spaces. Social development demands more greenery, more ecology and more sustainability. You can see that, for example, in the trend towards ecological greenery with insect-friendly mowing technology. But also with the reparability of machines. A good spare parts supply has a positive impact on sustainability by ensuring a long life for landscaping equipment.
How has the landscaping equipment industry changed over the last 10-20 years?
There has been an increased focus on environmental friendliness, efficiency, comfort, ergonomics and safety.
This has resulted in a completely new market with remote-controlled equipment, which is now well-established. These machines mean that, especially on terrain that is difficult to access, the operator is always in a safe position and is protected from dust, vibrations, noise and fumes.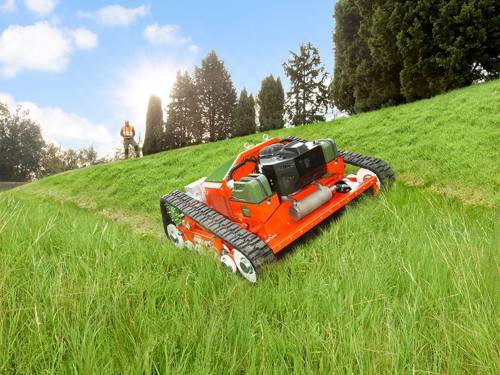 What are the key challenges facing manufacturers of landscaping equipment?
The biggest challenge at the moment is to get components for the production of the machines. Delivery times and prices have increased enormously. Nevertheless, we try to be flexible and work with long-standing suppliers to help us out.
Tell us a bit about agria
Since its beginning Agria-Werke GmbH has been a family business with a strong international focus producing professional units in Möckmühl, Germany for homeowners, gardening and landscaping businesses, and local authorities. We are proud of our history of innovations and our long-term relations with our clients. For example, we just delivered spare parts for a historical machine built in 1966!
Agria products are used for soil cultivation, greenspace maintenance and grounds care. Our walk-behind multi-purpose machines are well-known and the root of our brand, but we have also added to the range in recent years with our innovative, remote-controlled mowers.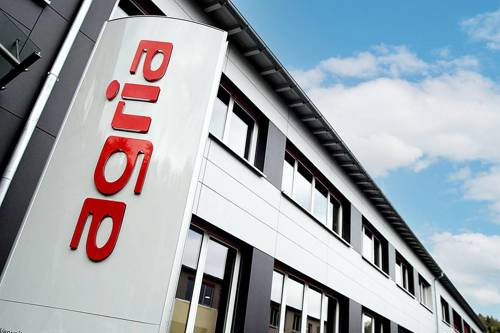 New technology and innovation are always driving the evolution of the tools of our trade. How is technology influencing R&D at Agria?
Compact design, weight distribution, performance and environmental friendliness are very important for our machines, so we use technical developments to enhance these aspects. Things like space requirements, weight and efficiency all have a direct influence on our machines.
It's always important to understand the customer, so how do the business needs and constraints of landscapers inform design?
We always welcome suggestions and feedback from our customers to consider them in the further development of our machines. There are instances where this feedback has been vital. For example, you can see the results in our remote-controlled machines. We developed the hybrid concept, maintenance-free electric drive and a slope capability up to an incline of 55 degrees following customer feedback.
How do you balance power and durability with cost and value?
It's important to us that a machine's components satisfy the needs of our professional customers. High-quality components come at a price. However, we and – more importantly – our customers, are willing to pay for that as durability and reliability are essential for a successful season. Our customers know that, so we design and build the machines they need.
Many agria machines use Kawasaki Engines, so what is important to you when selecting an engine supplier?
There are lots of considerations. We value quality, of course, but there are other factors as well.
Performance and durability are important – as is the reputation of the company. An engine supplier must also be able to guarantee reparability and spare parts supply, as well as reliable delivery. These factors mean that we can ensure quality for our customers.
We use Kawasaki Engines because they provide the perfect combination of power and quality for us – and therefore, our customers. Our machines work under some of the hardest conditions like steep slopes, high temperature fluctuations, vibrations or humidity. Under these conditions Kawasaki Engines run smoothly and offer the highest level of durability and reliability.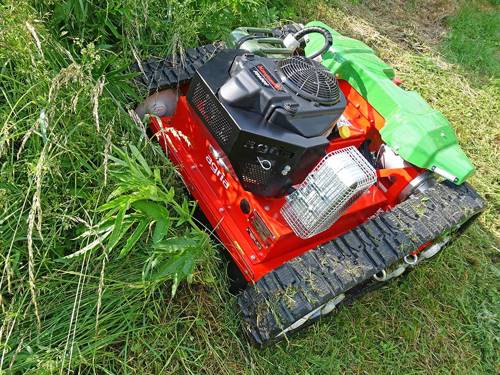 What are the key elements of great after-sales service? And how do you ensure your customers get it?
The agria brand has always stood for high quality and excellent service. To continue this, we have built an extensive network of dealers – who are frequently trained – and a fast customer service to support our products for their whole life cycle. This can be ensured by using well-known engines, which the mechanics in the workshops know from other machines, too.
We're always thinking about fast and easy maintenance and service – even in the development of machines. We hold a huge stock of spare parts to keep your Agria machine running and they can be shipped the same day. We have other services on our website – user manual downloads, search for spare parts. It's a complete, full-service package.
How do genuine parts compare to aftermarket parts?
For our high-quality machines, we only use original spare parts. It's very important that we can guarantee a quality standard and long life.
What can we expect from agria in the coming years?
We are always working on innovations to offer up-to-date solutions for our customers' needs and to set new standards. Customer feedback is very important for us and we take it into consideration when developing our machines.
Of course, digitalization also drives our industry. We've enhanced our machines with analytic tools allowing faster service and predictive maintenance.
Why should someone buy an agria machine?
There are lots of reasons! When you buy an agria machine, you're buying quality, ease of use, safety and durability. Our machines also provide high value for your investment, are environmentally friendly and you get great service. With high quality components and a good supply of spare parts our customers enjoy their machine for a long time.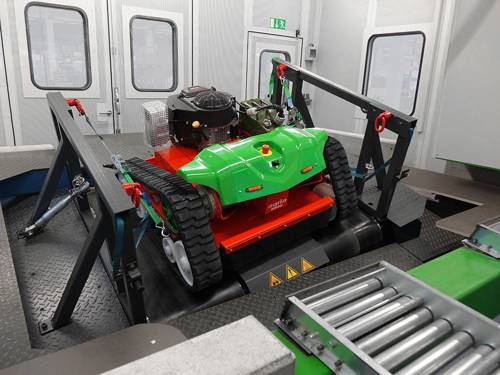 What's the best piece of advice you would give a landscaper buying a new piece of machinery?
Buy machines from well-established manufacturers whose machines have been in professional use for years. Trust references and check the durability of the machines. Choose companies that have a good reputation in the industry and stand for development and innovation.
I always recommend testing a new piece of machinery at your ground before buying. When you experience an agria machine, you know when it's the right solution for your needs. Agria is a long-standing company so you can be sure that we'll always be around to deliver great products and service.
What's the best bit about your job?
Day after day, I am motivated to develop creative solutions and exciting products for our customers together with our team. With the right machine for every application, we contribute our part to a better environment for humans, animals and plants.