Celebrating women in the world of Kawasaki Engines
7 Mar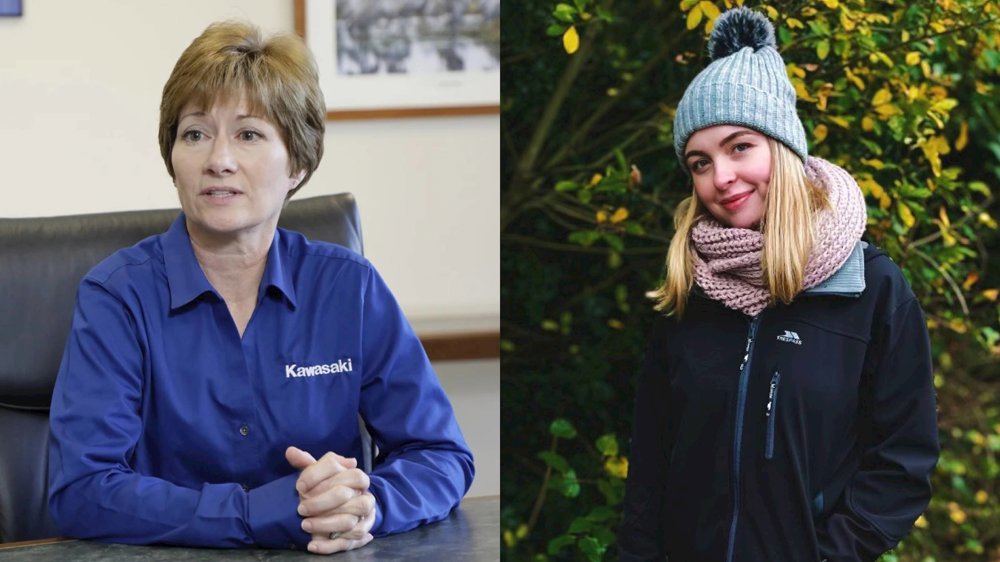 We're celebrating the contributions women make to our industry, from manufacturing our engines all the way to working with finished products. We spoke with two women at opposite ends of the industry, and opposite sides of the Atlantic: Anita Coulter, Plant Manager for Kawasaki Engines in Maryville, USA, and Holly Beeston, one half of married landscaping duo, Busy Bee Gardening, in Ireland.
It's no secret that manufacturing and landscape maintenance have traditionally been very male-dominated industries, but women like Anita Coulter and Holly Beeston are helping to change that perception.
Anita has worked at Kawasaki Motors Manufacturing Corp., U.S.A. (KMM) since 1989, starting her career with the business in Human Resources (HR) and working up to director level; Anita is now plant manager in Maryville, the primary production plant for Kawasaki V-Twin engines, and overseeing a new production facility in Boonville. 
Holly is altogether newer to the industry, as she joined her husband Cian Beeston in his existing business, Busy Bee Gardening, in 2022. They work together on jobs in their local community in central Ireland; Holly takes an active role in the company, operating a variety of landscaping equipment, including Powered by Kawasaki tools.
For International Women's Day 2023, a global day celebrating the achievements of women around the world every March, we spoke to Anita and Holly about their work and experiences, and asked for their thoughts on the position of women in the industry.
How did you get involved in the industry?
Anita: I come from a manufacturing background. Many people in my family work in the manufacturing sector – Maryville is a small town, but there's a big industrial presence here. 
As for how I started in my current role; I started my career with Kawasaki Engines in HR, after completing a degree in personnel management. I worked up to director level, and then became plant manager here in Maryville. HR is still a big part of my role, as I am currently involved in building a "Corporate Structure" for all of KMM (Lincoln, NE, Maryville, MO & Boonville, MO) which includes Benefits, Compensation, Administration, Safety, Training & Wellness, and Talent Management.
Holly: My husband Cian started Busy Bee Gardening before we were together. I've worked a few other jobs, but when we moved to where we are now, it made sense with our schedules for me to join the business.
It's been a learning curve, but I'm loving it so far. I learned so much in the first year, from Cian, customers, and just from hands-on experience.
Have you felt there were any barriers you have faced as a woman in this career path?
A: I've been fairly fortunate in my career that I don't feel I have faced too many 'barriers' as such. If anything, I hope women view any obstacles as challenges they can overcome, rather than barriers. During my time at Kawasaki, my working environment has been very respectful. But I've always been willing to speak up – it's something I advocate for the women who work here.
Don't be afraid to speak up when you have an issue, or have something to contribute. It can be intimidating being one of only a few women in a room full of men, but if you don't speak up, you won't be heard.
H: Yes, I think there are some barriers for women in this type of work. There are the things you might expect, like the odd customer who doesn't see women as capable, or a snide comment here and there – but thankfully the majority of people see things differently.
A barrier on the practical side of the job is that machinery and equipment isn't designed with women in mind, so it can be difficult to operate at times. Some equipment is pretty heavy, and can be challenging to use for any length of time. 
Do you feel that attitudes towards women are changing?
A: Yes, I do. Even in the last 10 years, the amount of women working here in management positions has increased. It's becoming more and more common to see women working in the industry, in roles of all levels, which is helping to change attitudes. 
35 percent of employees in our Maryville plant are women. It's all happened organically, which is great to see.
What do women bring to this kind of work?
A: In manufacturing, women often excel on the assembly line. These are generalisations obviously, but women can be very creative, and in problem solving and troubleshooting this can be great in a manufacturing setting. We're often good planners, and can prepare well for any potential problems down the line.
H: I can't speak for all women of course, but I like to think we bring a more delicate touch and careful eye. I'm a bit of a perfectionist – Cian always finishes jobs to a high standard, but I'll be the one to go back and trim those last few remaining blades of grass that are out of place!
I've also noticed that a few of our female customers feel more at ease knowing that I'm working there. It can be quite intimidating for some women, especially if they're elderly, to be home alone with a man in their garden. I think seeing a woman's face makes them feel more comfortable. 
Anita, what do you think women bring to senior roles in an organisation?
I think that it helps women see that they can do whatever they set their minds to. Seeing women in senior leadership roles makes it seem more feasible to some women, who might not have considered it an option before.
Women in senior roles also help female staff to air their concerns; sometimes women are more comfortable talking to another woman in a senior role than a man. Often women will approach me if I'm on the factory floor to discuss things – my HR background definitely plays a part, but they may not have been comfortable doing so if I were a man.
What is your proudest achievement?
A: That's hard to say! I've worked at Kawasaki for over 30 years, so there's been a lot of exciting developments in that time. More recently, getting the Boonville project launched was something I'm very proud of, as was becoming plant manager at Maryville. 
Working with the management team to grow and develop their departments has been very rewarding. The management team works very well together in Maryville and in Boonville; I feel this team can do anything together.
Getting involved in the corporate structure is exciting – it's a challenge that has given me the opportunity to make improvements for the company overall. I'm very proud of the work we're doing; it's an exciting time for the company.
Anita, what are the biggest misconceptions that women may have about working in manufacturing?
That it's dirty. There's a perception that manufacturing is gruelling, hard labour that leaves you covered in grease at the end of the day. 
Of course, working with oil, grease, coolant – it is part of it; working with engines, it generally comes with the territory. But not every role in manufacturing is going to leave you elbow-deep in grease! Our factory is kept very clean and orderly, and most roles aren't as physically intensive as you might think.
Holly, what do you love about working in landscape maintenance?
It's funny really, because I hated gardening growing up! But I've really grown to love it – there's a real satisfaction in completing a job well. I love weeding a bed or cutting the grass and seeing the end result, watching a garden improve over time. I even look after a small garden at home now, which I adore; it's a bit of a turnaround from my childhood!
I also love the customer service side of it; building a relationship with customers is one of my strengths. I'm a social person, and meeting new people is a part of the job I really enjoy.
Has anyone been surprised by your choice of profession?
H: I do get that all the time. I think even my mum and dad were quite surprised because they were thinking, you never ever liked to work in the garden at home!
But as well, just people you meet, they're like, oh, you know, you're a gardener. Because I think people just presume that gardening is quite dirty, and maybe a 'manly' job, but I love to do my hair and makeup. So to have someone come along and be a woman, working in a hands-on, physically demanding job, it can surprise people.
Do you think anything would be different if you were working alone?
H: Yes, definitely. Unfortunately, some people still have the attitude that this is a man's job, and are dismissive of a woman's ability to keep up.
I know I would have a harder time to convince certain people that I'm capable of doing a job as well as a man. It would cut off some potential clients, and I think building that initial customer base would be harder. It's definitely not impossible to start a solo landscaping business as a woman, but I do think it's trickier.
Why do you think relatively few women work in manufacturing and landscape maintenance?
H: It's partly because of the reasons I've mentioned earlier. There can still be a bit of prejudice against women in the industry, and women may not consider landscape maintenance as a potential career.
It is a physical job and that won't appeal to everyone. If you love gardening and being outdoors, though, you should give it a try and see if it's for you.
A: Again, I think this is something that's changing. A good percentage of our workforce is women, and I hope to see this only growing, not decreasing. 
I think fewer women have worked in manufacturing traditionally because of the misconceptions that I mentioned earlier. It can be very physical, which won't work for everyone, but creative thinking is a bigger part of it than most people realise – there's no reason women can't excel in this industry.
Can you offer any advice to women looking to work in the industry?
H: Not to push yourself too hard in an attempt to prove yourself! When I first started I was pushing myself beyond my limits to prove I could keep up; I'd work so hard on Monday that I'd be exhausted by Tuesday. 
You should know your limits physically and prioritise your self-worth. If a customer doesn't respect you because of your gender, don't continue to work for them – there will be other clients out there who do.
A: Like I said earlier, be confident in yourself and don't be afraid to speak up. If you're looking to get started, do as many internships or job shadowing as you can. There's no better way to get an understanding of the industry than through experience; you'll soon see if this is a career that appeals to you.
Thank you to both Anita and Holly for sharing their experiences and taking the time to speak with us. 
At Kawasaki Engines, we greatly value the contributions women are making to both our company and the wider industry. We hope to see the current trend of greater numbers of women in manufacturing and landscaping continue.
If you're interested in starting your own business in landscape maintenance, our six-step guide might be a good place to start!