LANDSCAPE PROS - JayRock Lawn Care: the key to business success
10 nov 2021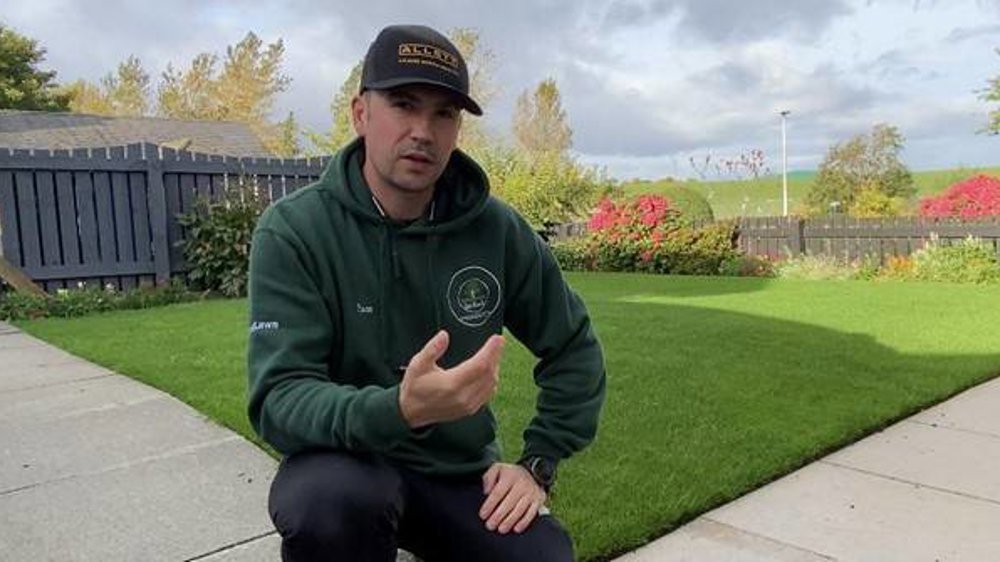 Sam Jarockyj owns and runs JayRock Lawn Care and Gardening in Northeast Scotland. Age 27, Sam has built up a successful business and social media following. He attributes his success to learning the basics like the back of his hand, marketing hard from day one, staying true to himself and his business' vision, and of course, investing in good quality, reliable, trustworthy machinery to work.
Tell us a bit about your business
I run a one-man-band lawn care and domestic garden maintenance company in the Northeast of Scotland. The job involves upkeeping, treating and renovating lawns ranging from small 50m2 gardens to two-acre plots that require year-round work. I also look after a lot of maintenance properties that need things like hedge trimming and border work.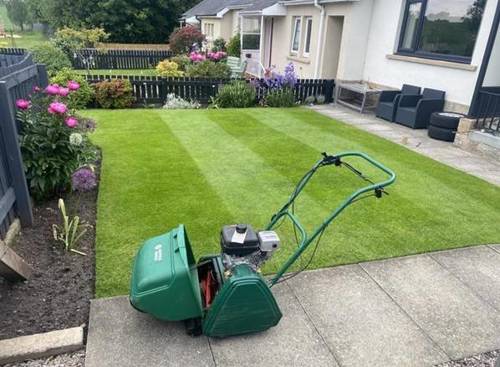 Describe your average day
An average day starts with the most important thing – a coffee! Following that, I usually have maintenance slots in the morning. I have a lot of 7am starts so being able to start with quieter work like pruning or borders is ideal. After that, it's a mix of grass cutting, treatments and general maintenance work.
What are your main job requirements?
The main requirement for a job within my company is a basic knowledge of the garden. I believe in being hands-on and seeing things in person. You can learn a lot very quickly that way.
Attention to detail is also key, whether it's ensuring a smooth finish on a hedge trim or a clean edge at the side of the lawn, this has always served me well.
The willingness and discipline to work in all weathers effectively and efficiently is vital. In this line of work, you're obviously working outdoors most of the time and the ability to maintain high standards, even in the worst weather, can mean the difference between a good reputation and a lesser one.
What are your top five tips for success in the lawn care industry?
1. Consistent mowing
Having clients on a weekly or fortnightly grass cut is key. At the end of the day, if your client is having one cut a month, then that lawn isn't going to look brilliant. Your work is your portfolio, and your competition and prospective clients will more than likely not know your agreement. Instead they will assume that you're responsible for the finished result when actually it's simply the long cutting cycle. For that reason, I don't take on any work that has a longer than fortnightly cutting frequency.
2. Annual scarification
The build-up of thatch steals nutrients and water from your soil, like a sponge over a cloth. Scarifying annually as a minimum will reduce this thatch and allow the soil to take and hold more nutrients and water throughout the year. This will make a huge difference to a customers' lawn.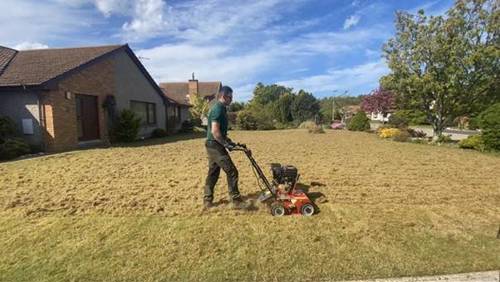 3. Social proof
Before-and-after photos on social media are so important. They really illustrate your work in the most effective way. Take them at the beginning and end of a project, throughout the year for a regular customer, and post them frequently. Social proof is one of the best ways to build trust in you and your work before people have even spoken to you.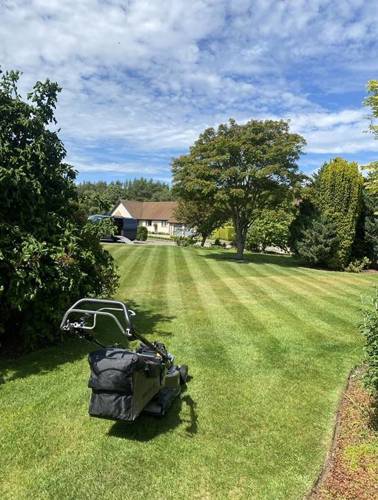 4. Basic understanding
You don't need a degree, but do educate yourself on basic lawn knowledge: the main diseases, treatments, how the grass plant works and what will help a lawn as well as common reasons why you may have a lawn that struggles. You can achieve a lot in a garden just by knowing the basic facts.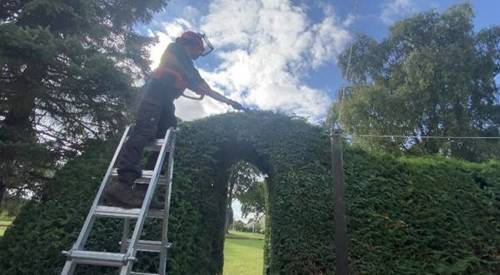 5. Educate your clients
Help your clients to understand what you do and why. For example, why their moss-filled lawn will never be thick green grass if they refuse to have it scarified and treated. If they don't understand why it's happening, then they won't understand why they need to pay for a service to have it fixed. Not only is this going to help your client and the end result, but it will build a bridge between you and them, helping to manage their expectations - what is achievable and possible. It will also create a better income per client throughout the year.
How is business at the moment, seasonally and post-pandemic?
I'm pleased to say we're very busy. You focus on different parts of the business at different times in the year. For example, going into autumn and winter, it's lawn care, hedges, power washing and pruning, they all have places at different times to keep you busy. Post-pandemic, I not only saw a rise in interest, but clients too, and it doesn't look like it is going to stop any time soon.
What are the best and worst parts of your job?
The best part of the job is seeing some amazing places around my area of work. You get to work on properties that are in such beautiful locations and really be in touch with the natural world around you.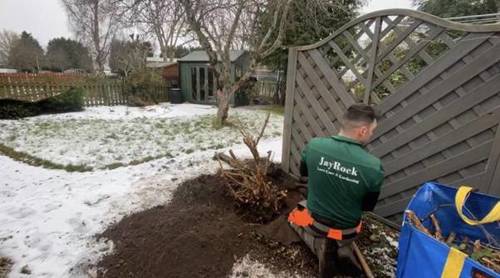 The worst has to be the weather, although I do actively work through all conditions – sun, sleet, hail, snow - it's never nice, especially mid-January in minus-two degrees, removing shrubs or clearing a garden!
What three pieces of kit would you not be without and why?
1. Weibang 48 Pro BBC
A lawn mower is the backbone of my business from March to late October/early November. Currently I'm using the Weibang 48 Pro BBC rear roller (with Kawasaki FJ180-AM74 engine) which leaves a beautifully striped finish.
2. Husqvarna 325iLK Combi trimmer
I love this bit of kit for both strimming and edging. It's a standard day-to-day item throughout the year. Powerful and quiet, it takes so many attachments. It's a real game changer having a combo system in the van.
3. Husqvarna 525bx leaf blower
This blower is brilliant. Whether I'm cleaning up debris from a scarification in May or putting leaves in piles in November, it has enough power to get through most jobs, leaving a property clean and tidy when leaving is key and this really helps with that.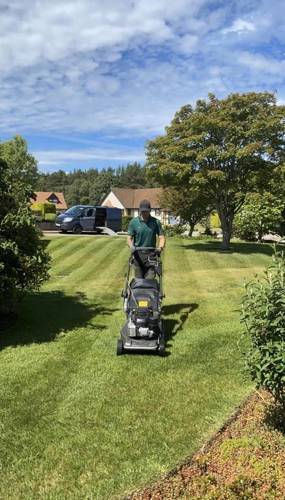 How important is it to be able to rely on your machinery?
Reliable machinery is essential. If you can't rely on your machines it can really turn around and bite you. Unreliable machines will cost you in so many ways: your time taking it to be repaired/replaced; financially – if you have bought something cheap or badly looked after and if you don't have the money to one side to invest, then the money has to come straight from your profit. Using kit and equipment with a solid name behind them, like Kawasaki, alongside a good warranty will pay for itself a few times over.
How do you make sure you get the best from your machines?
First, look after them. I don't chuck them around too much! Although most of the stuff is heavy duty, I still try to look after them as much as I can.
Regular maintenance like cleaning under the deck of a mower and ensuring the shoot and bag is clean can go a long way with its effectiveness. I get the machines with engines serviced when needed. This can be done by yourself or with your dealer, which is my preference.
What are the main features you look for in a mower?
I need a powerful and reliable engine. I want it to be comfortable to use with handle adjustment, SP and BBC bar placement. I also want collection ability. Basically, I look for a good overall performer.
What do you think of your machinery that uses Kawasaki Engines?
The two machines I use that have a Kawasaki engine are my Weibang 48 Pro BBC Rear roller and my Suffolk Punch 14sk cylinder mower (with 4 stroke Kawasaki unleaded petrol engine).
Both machines are really reliable, they run smoothly and always start on the first/second pull - even after winter. I love them. It goes back to reliability and having these machines with such well-known and trustworthy engines which makes them an absolute joy to work with.
What is your maintenance and service routine?
Quite frankly, I am pretty laid back about it and try to keep it simple! If it's dirty I clean it. If it's not cutting as I expect it to, I sharpen the blades myself (trimmer and mower). I get the main bits of kit serviced each year.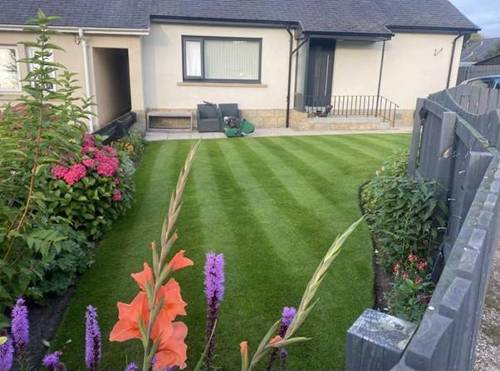 What's your top tip for making the job easier?
Organisation. Using something like Awesome Cal or Google Calendar where you can book all your clients into specific time slots and colour coordinate them really helps. The more you can take off your plate during the day the easier things run.
How has new technology and innovation affected landscaping?
It's had a massive impact. The fact that we can run marketing campaigns, manage our books, make client appointments, receive payments, order new kit and equipment just from our phones shows exactly how far we have come. Remote/robot-controlled mowers and the like are definitely the future... although I believe there will always be a place for a manned machine!
What are the biggest challenges facing professional landscapers today?
It's becoming very apparent that there's a huge change in the weather. Worldwide we are seeing more bush fires and flooding, seasons are changing with plants blooming out of sync to normal. We are seeing diseases like red thread that weren't a big issue years ago becoming more prevalent. If it doesn't put us out of business it's definitely changing the way we work.
What piece of professional advice do you wish you were given when you started?
Trust yourself and your ability. There are so many things to know and learn. I sometimes think this may have stopped me from starting my business sooner. The truth is, you just need to trust yourself. You are more than capable of running a successful business and if your willingness to succeed is high enough, you already have the ability to achieve just that.
What are the most commonly asked questions from your followers?
'How do I fix my lawn?'. And to that I answer: commonly a simple renovation will take a lawn back to a healthier state to which you can then build on.
Most frequent barriers to getting the job done successfully?
A clients' willingness! Sometimes what needs to be done, isn't necessarily what the client wants! Working within particular parameters, but remaining flexible and offering that customer service to build customer satisfaction is all part and parcel of a business.
Do you have any advice for those wanting to start a career in the industry?
Just do it. Doing anything is better than nothing. Research the area you wish to practice in, learn the basics like the back of your hand, market hard from day one as if you were a multi-million-pound company and stay true to yourself and your business' vision.
Top tips for building and growing a successful company?
1. Marketing is key
There isn't a lack of work, there's a lack of marketing. Market yourself correctly and consistently until the point where you can't take on any more work. At that point you either stagnate or grow. The choice is made with what you choose to do with your marketing.
2. Professionalism
Whether that is being in uniform or having uniformity across all social platforms, professionalism is seen a mile away. This alone can build much needed trust between yourself and your client. Eyes are always on you and your business, especially when you don't expect it!
3. Be reliable
Reliability is what will continue to keep clients coming back to you, that and a well completed job.
Follow JayRockLawnCareAndGardening on Instagram.