How do we guarantee quality at Kawasaki Engines? A behind-the-scenes look into our US manufacturing plants
17 May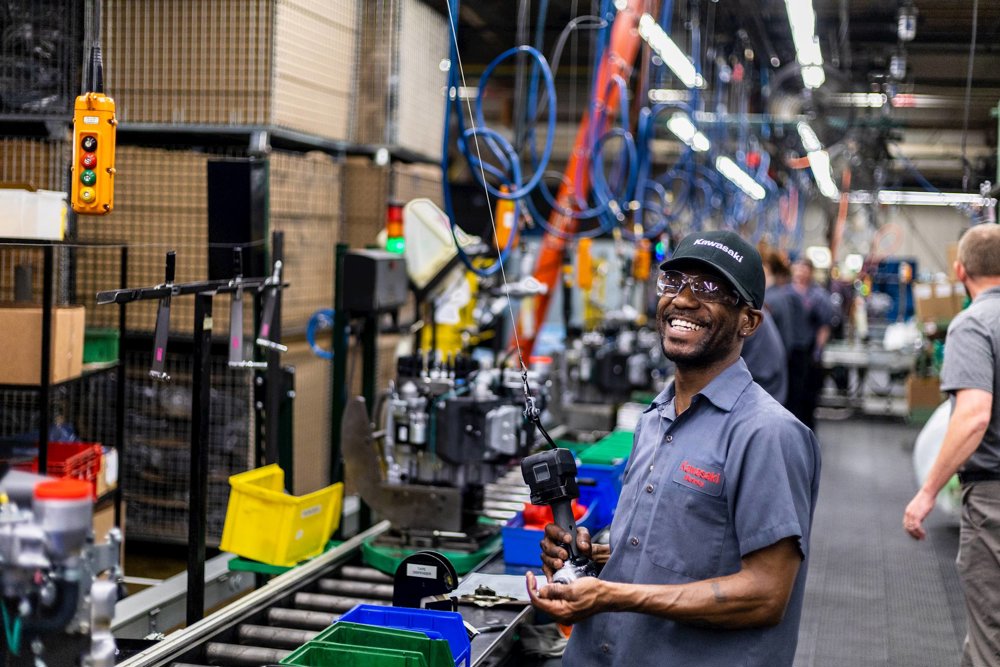 Kawasaki Engines' consistent quality isn't the product of chance. It's the result of adhering to strict processes and extremely careful attention to detail.
Our production facilities in the US know how to get the job done – at Maryville, they've been producing V-twin engines for decades. Power, quality, and durability are all things Kawasaki Engines has built a reputation for, but none would be possible without the meticulous planning and processes involved in manufacturing.
Made in the USA
Our V-twin production facilities are found in the heart of the Midwest, with our primary facility located in Maryville, Missouri. 
Being based here makes meeting Kawasaki standards simple. At both our Maryville Kawasaki Motors Manufacturing plant and our new Boonville facility, we have access to a highly skilled workforce and the latest technology and equipment. Our new assembly plant in Boonville is a fantastic addition to our operations, but assembly is only one aspect of production in Maryville. With die-cast machines and machining operations on-site – that take molten aluminium and forged steel to create the major component parts of Kawasaki engines – adding another complex element to production, there's certainly more than meets the eye at Maryville!
Our quality assessors and research and development departments work in tandem to constantly improve the performance of our engines, making sure Kawasaki is always ahead of the curve. Design and manufacturing work closely together to make certain that Kawasaki engines can meet the demands of moving from a blueprint to a mass production setting.
Kawasaki engines are distributed worldwide from Maryville, which has continued to be a busy site for over 30 years now. Our reputation for high-quality, exceptionally durable machines has been built here, where a tight-knit community of workers, who view consistency, precision and simply 'getting it right' as a matter of obsession, are constantly pushing the standards higher.
Our manufacturing plants are subject to strict quality guidelines; both facilities are ISO 9001 and ISO 14001 certified, demonstrating our commitment to quality management and environmental responsibility, respectively.
Across the board at Kawasaki Engines, we're constantly looking to improve processes and produce the best engines we can: as proven by our latest engine hot off the assembly line, the EVO series, which are our most advanced engines yet.
Boonville, the location of our brand new production facility
Market demand called for increased production capacity, and plans for a new facility began in 2022. Our new Boonville plant in Missouri has quickly exceeded expectations, with the two assembly lines initially planned for already expanding to five. 
The plant has become the largest employer in Boonville in ten months, and looks set to continue its growth to match demand.
Guaranteeing quality in the manufacturing process
Kawasaki quality is guaranteed thanks to a series of meticulous checks and thorough testing throughout the manufacturing process.
It is this 'overtesting' that helps us perfect our engines, ensuring they have the power, reliability and longevity that our customers need and have come to expect from them. We test extensively so that our customers can know they're getting the best possible engine for the job at hand.
High standards and continuous evolution have kept Kawasaki at the forefront of engine design and manufacture. These standards are met through consistency; we spoke to Anita Coulter, Plant Manager at Maryville, who was instrumental in making the Boonville factory a reality, about the processes involved in making Kawasaki quality a guarantee.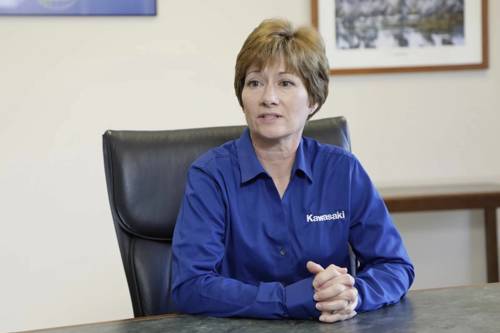 Safety first
Anita insisted that employee safety is always the most important consideration, "Before anything else, the safety of employees is the first priority. Besides our dedication to considering and caring for our employees' wellbeing, safety of staff has a huge impact on guaranteeing quality."
"You can't have a production line that is working efficiently if it is unsafe. If someone operating the equipment is in danger, it is firstly unacceptable for the wellbeing of our staff, but also shows a lack of care that will transfer into the production of our engines. A safe environment helps our employees do their job to the fullest of their ability."
Quality comes next
Anita continued, "Once safety is assured, quality is then the priority – and quality is verified by our personnel. We have employees on the line constantly performing checks; there are countless checks and balances to ensure that the engine or component part meets the customer specifications. We're ISO certified, so we "do what we say we are doing," and auditing those processes to ensure quality at every step of the process.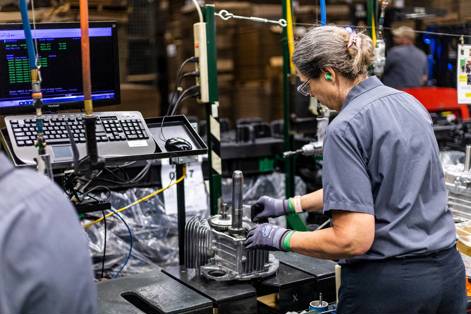 "Incoming parts are also thoroughly examined – they go to a quality control area, and if any problems are discovered, we would go straight back to the vendor immediately. The machinery we use to actually manufacture the engines are also subject to many checks. We consistently perform preventative maintenance checks to catch any issues before they become a problem. Our engineers look at the equipment we're purchasing to make sure it's of a quality that matches our own – they're always on the look out for up-and-coming new technology."
"Essentially, we have set standards at Kawasaki. We won't go below a certain quality and durability in our engines, and the equipment making it has to meet that level as well. Every engine is tested before it ever leaves the factory, so people can be certain that they're getting a reliable, trustworthy product."
Kawasaki engines are tested in extreme conditions to confirm that they can handle a commercial-level workload. From withstanding sub-zero temperatures and dusty environments to the demands of extensive hours of use, you can trust that Kawasaki Engines has covered all bases when it comes to the reliability of your machine.
Look to Kawasaki Engines for assured quality
You should see by now that, like Kawasaki engines, our manufacturing plants run as a well-oiled machine. With high standards guaranteed by a dedicated workforce and consistent quality checks, you know that your engine is tried and tested, ready to perform to its maximum level.
Explore our engine inventory here, or to see the finished article in ride-on mowers, brushcutters and more, explore the machinery Powered by Kawasaki today.