A match made in heaven: how do we pair Kawasaki engines with the machines they power?
3 Jul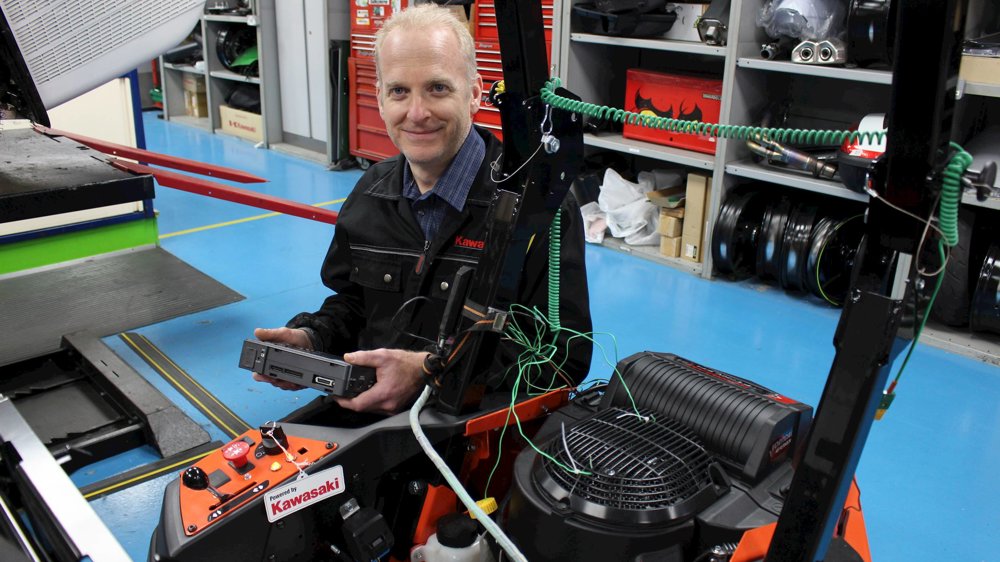 Alan Lunn, application engineer at Kawasaki Engines EU, is responsible for the smooth integration of engine and equipment. He explains the process and the challenges involved, and reveals how Kawasaki works with manufacturers to guarantee quality.
An engine, while integral to the overall performance of equipment, needs to be paired with a machine of equal quality to excel. 
The process of matching the right engine to a piece of equipment – and ensuring everything works smoothly – is called engine fitment. Our application engineer, Alan Lunn, is responsible for this vital part of producing an exceptional end product.
Alan brings a vast wealth of engineering experience to the table; having worked with Kawasaki Motors for many years, Alan only relatively recently transitioned to the world of mowers and landscaping equipment. He brings unique technical experience and expertise to the role and travels across the world to help see projects come to fruition.
We spoke to Alan to give you a behind-the-scenes look at the process of engine fitment, and how we guarantee that your equipment will perform at the highest level.
So, where do you begin when it comes to matching an engine to a machine?
It starts with clearly determining what the equipment manufacturer's engine need is. An original equipment manufacturer, also known as an OEM, will have a piece of equipment designed, and need an engine to power it. They might be designing a new zero-turn, or a lawn tractor; if it's a remote-controlled mower it's going to require very different things from an engine than a walk-behind.
We discuss with the OEM the type of application and the market sector it's for – heavy commercial use will need a different engine compared to light residential – and that gives us a guide to the series of Kawasaki engine they'll need. We can select the engine with the most appropriate power characteristics; for really heavy-duty work, we might put forward an FX engine, for example. The OEM may have its own price point and expectations in mind, so it's really about finding the right balance.
What happens after you have selected an engine for a piece of equipment?
Once we have an engine to suggest, I usually send out 3D CAD model drawings, which show everything really clearly to the manufacturer. The OEM can then use these models to further develop their new machine, paying close attention to clearances, harnesses, pipework and the power take-off. 
It's often the technical team from their Research and Development departments that I work with most. They're the people developing and designing the products – it's at this initial point that they want the engine to fit into it to make sure that it all works. From the ground up; you really want the engine in there as you're making the chassis. 
Once this initial stage has passed, we can arrange to send a sample engine for fitment and further testing. Testing starts to get a bit more in-depth at this point, looking at exhaust system emissions – making sure they comply with the regulations of the various countries that the machine may be exported to.
I then arrange to visit the OEM to either oversee or carry out a matching check – a fit and function assessment. Aside from a very in-depth examination of the engine/machine interfaces and clearances, it also involves the fitment of various thermocouples around the engine and then running it at the maximum load for a set length of time. 
Throughout this process, I monitor engine temperatures to make sure that we do not exceed certain figures, and should it be fuel-injected, I'll monitor the parameters that the electronic control unit (ECU) records, to ensure the reliability of the engine under the most stressful conditions. I also assess the ease of service access for the engine.
The entire engine fitment journey, from initial concepts up to the point of signing off before production of the equipment, can take around 13 months.
Are there any challenges involved in the process?
I've been fortunate – I haven't come across any huge challenges so far! In the past there have been a few tricky situations; one that I know of was an issue with air flow to the engine. With zero-turns, the engine sits out the back of the machine, where it's very well-ventilated. In this instance, it was a lawn tractor with far more limited air flow – so modifications had to be made to increase the amount of ventilation and get things running smoothly. 
We will make modifications if necessary, or if the OEM will specify things that they want changed, added to or removed from a standard engine. Should these adjustments be within our scope of change then we can build a bespoke sample engine; the new specification may then continue into production.  
Can you tell us a little more about yourself – how did you get involved in engine fitment?
I've always leaned towards working with machines and technology. Like many other children, I was constantly taking things apart to see how they worked – the only difference was, I could put them back together again! 
After training as a motorcycle technician and progressing to workshop manager in several dealerships, I moved to Kawasaki Motors UK, where I spent many years working as a technical and customer service advisor. I eventually found myself itching for a new challenge, and that came in the form of my new role as application engineer at Kawasaki Engines EU. 
It's been an exciting change for me, in a much more hands-on role. I meet regularly with technical advisors in the US, and travel around the world working with various OEMs. It's great to see the long-lasting relationships that have developed between manufacturers, and it's a privilege to become a part of that.
How do you guarantee that the final fitment meets Kawasaki standards?
I can spend an entire day with the OEM, testing and then perhaps retesting as part of the matching check process. Of course, they're just as invested in the performance of the machine as we are! Everyone present is keen to create something that is top quality all round: it's a premium quality engine for a premium quality product.
As for the testing itself, we call it a matching check. We're essentially looking to make sure the application isn't going to wreck the engine – there are all kinds of things that could cause potential damage, like a lack of air flow for example. It's a thorough process, conducted by both myself and a member of the equipment manufacturer's team. Their team has typically already completed between 70-80 hours of testing before I arrive on the scene!
When it comes to compliance, we're responsible for the engine and we take this role very seriously. We do all kinds of tests in our US production facilities to make sure the engine is compliant with regulations, as well as assessing its performance. By the time it gets to engine fitment, I'm mostly looking at emissions for compliance.
We'll do a complete muffler test, look at general exhaust emissions, backpressure figures, fuel consumption, exhaust gas temperatures; everything that we can do. Issues rarely arise at this stage – at least, in my experience – as the planning process beforehand is so thorough. 
Any last thoughts to share on the engine fitment process?
I suppose it all comes back to being reliable; Kawasaki engines are designed to withstand the maximum workload, and are consequently put through the most stressful conditions they could realistically meet. To sum it up, we're supplying a high-performance component in close collaboration with the OEM, but the trust goes both ways and ultimately it's up to the OEM to integrate our engine and create a superior machine. Both parties must value quality; we work with OEMs who design exceptional pieces of equipment for this reason.
Thank you for your time and insights Alan! To see the result of this work and the OEMs we work with, head over to the Powered by Kawasaki page.