Why you should purchase a Powered by Kawasaki brushcutter
6 Jul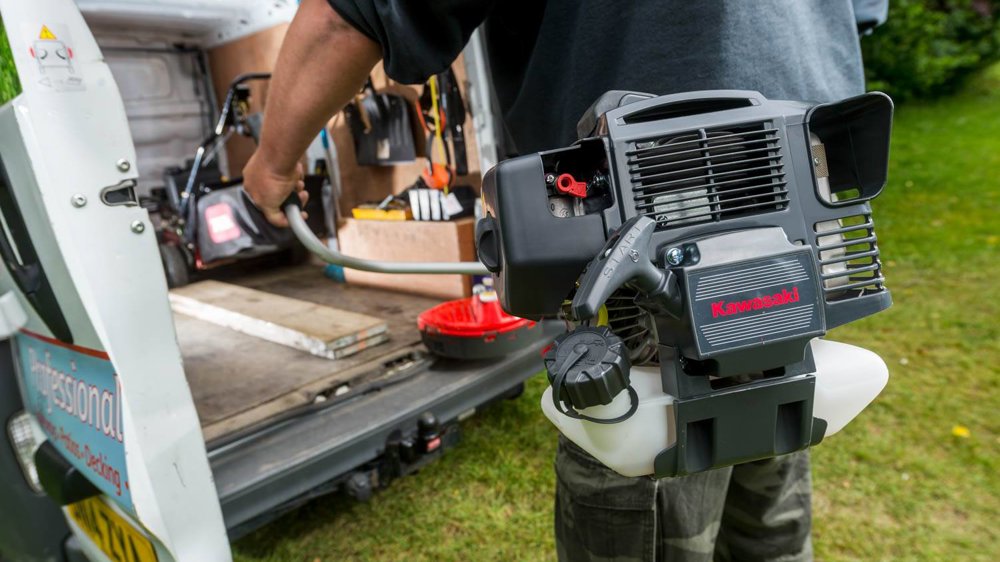 Brushcutters are an essential tool for a professional landscaper, taking on several heavy-duty maintenance tasks. For professional users, a brushcutter needs to have the power to cut through dense vegetation with ease, and the durability to do it over and over again.
Their ability to do this largely comes from the power source: for the toughest jobs, you need the toughest engine. Reliability is especially important in the professional sphere, where repeated failed starts and inefficient performance can impact productivity, damage your reputation and, ultimately, reduce your profit margin.
We look at why a brushcutter is so integral to a landscaper's toolkit, what you need to look out for when purchasing one, and why a Powered by Kawasaki brushcutter is the right choice for professionals.
Why you should purchase a brushcutter
Most professional landscapers will be familiar with brushcutters, but some – especially those who work primarily in smaller gardens or are new to the field – may still be undecided on whether to make the jump from a more lightweight grass trimmer.
While tools like a strimmer can handle some lighter work in a domestic setting, as a general rule, they aren't suitable for a professional workload. When arriving at a new job, landscapers are rarely going to find a pristine lawn and tidy outdoor space – that's why they're there, after all.
Lightweight grass trimmers struggle to tackle more than long grass in a small garden. If you're working on large gardens, a public space, or a small or medium estate, you will be using your machine for long periods of time, and need equipment that can withstand this intensity of work. You're also likely to require a wider range of capabilities from the equipment than a strimmer can provide.
A brushcutter is designed with the professional in mind. This piece of equipment can be used for more than just cutting long grass and weeds – it has the power and strength to cut back dense brush, hedges and small trees. For professional use, a brushcutter's adaptability should never be underestimated.
To summarise the advantages of purchasing a brushcutter;
Power and performance – far outstripping the output of a strimmer, brushcutters provide the optimum power level for commercial-level work.

Durability – offering valuable longevity, they can keep up with the punishing workload of a professional.

Versatility – brushcutters can handle a range of jobs, from tidying grassed areas and overgrown weeds to cutting through dense brush, hedges and even small trees.
A professional's tool – brushcutters are more than just a hobbyist's machine. It's a tool designed for demanding, varied use and a long service life.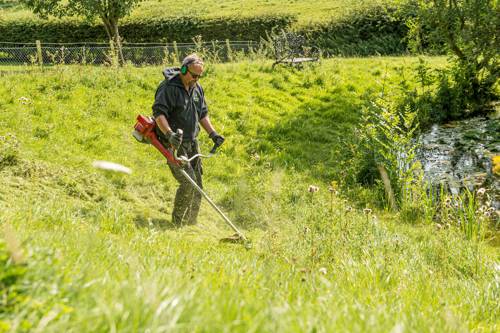 What you need to look for in a brushcutter
A brushcutter is an essential piece of kit for a professional, and one that will certainly be put through its paces; you need guarantees of reliability, durability and power and performance.
More than that, however, is the often-overlooked consideration of your day-to-day comfort. While the previously mentioned factors are crucial, you shouldn't forget the simpler, practical features of the equipment.
Here are a few things you should consider when searching for your ideal brushcutter.
Lightweight design
You will be carrying your brushcutter for extended periods of time – landscaping is already a physically demanding job; why make it harder than it needs to be?
Consider the weight of the equipment when purchasing a brushcutter. Will you be able to lift and carry it for the length of a job, how much strain will it put on your back, and is it going to impact your productivity? It's easy to forget to look after yourself, but your wellbeing is the most important consideration of all.
Don't make the mistake of purchasing a piece of equipment that's going to cause you problems physically!
Handle and harness
Like the weight of the tool, this is all about user comfort. You should look for a comfortable grip, ideally with adjustable handles that can be set to a position that suits your height and working style.
There are different handle types available (bike, loop and offset are common), so you may need to try a few to find one that suits you. Your brushcutter should also come with a harness or shoulder strap to help distribute the weight of the equipment and reduce the fatigue that occurs with prolonged use.
Cutting mechanism
All grass trimmers, whether a brushcutter or a lighter tool, will typically have either a nylon line as a trimmer head, or a blade. Some will have interchangeable trimmer heads, giving you the versatility of swapping cutting attachments for different tasks.
Nylon line trimmers are best suited to cutting through high grass and weeds, while the more robust metal blades can tackle dense brush and wooded vegetation.
If a brushcutter has only a single trimmer head, it will typically have blade attachments. This cutting head has the strength to tackle difficult areas of brush, sweeping through thick grass, hedges, bushes and small trees with an ease a nylon line trimmer cannot match.
Cutting width
The right cutting width for you depends on the task at hand. A wider cutting width will help you cover more ground, but for precision work, like tidying the edges of a lawn, narrower will be preferable.
When it comes to general use, 400mm is usually the ideal width for heavy-duty work, thick grass or brush, while 200-300mm is better suited to light grass trimming in a small to medium sized garden.
Electric or petrol trimmers?
The variety of cutting equipment available has grown rapidly in the last decade. It's an increasingly common question: petrol or electric?
Electric grass trimmers are increasingly common, and can be corded or cordless. Corded brushcutters are very rare, as they have neither the power output or the practicality needed to work professionally. 
With cordless models, you have the mobility necessary to work effectively and the absence of a trailing wire improves safety. While electric grass trimmers have come a long way in recent years, and can be cost-effective, they do still have some drawbacks when compared to a petrol model.
Petrol brushcutters have an unmatched power output, making them the best choice for a heavy-duty workload. A petrol brushcutter can also be refuelled on the go, while an electric grass trimmer brings extra logistical issues of finding a power source if the battery runs out.
The engine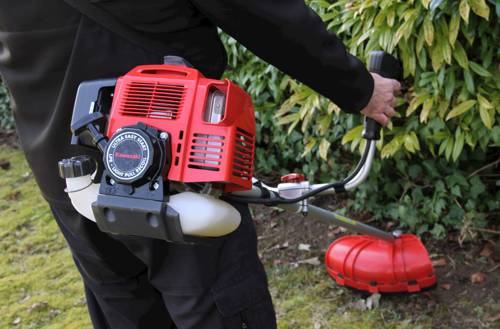 We may be biased in this regard, but when purchasing a brushcutter, we think most would argue the engine is a dealbreaker. Reliability, performance, power: all depend on the quality of the engine.
Kawasaki Engines has earned its trusted reputation through years of manufacturing engines of the highest quality: our first engines were produced in 1957, and we've been refining the process ever since.
For a petrol brushcutter capable of taming even the wildest bushes and grass, you should rely on equipment Powered by Kawasaki – and this is why.
Reliability
For a reliable brushcutter you need a reliable engine, and Kawasaki Engines is proud to be the safe choice in this regard. We know how frustrating it can be to arrive at a job, only to be let down by your equipment, which is why we take every step to guarantee the reliability of our engines.
Exceptionally thorough testing is the key to reliable performance. Our engines are tested in extreme conditions to give you certainty in their ability to withstand a commercial workload. For complete quality assurance, every engine is test run before it leaves the factory.
Kawasaki engines will start when you need them to, whether it's the first or last use of the day. For professional use, there are few things more important. Our TJ45E, TJ45E HD and TJ53E engines use Kawasaki Advanced Recoil (KAR) to make starting even smoother, reducing the required pull force for an easy, low-effort start. For an even easier start, consider the TJ53E LPR, one of our most powerful 2-stroke engines. The Light Pull Recoil starter (LPR) is designed to make the required pull force even lighter, reducing the risk of shoulder injury for busy professionals.
Durability
Brushcutters must be able to handle a significant workload. With their versatility, brushcutters endure frequent use across a range of landscaping jobs; while a regular grass trimmer needs to be durable, the engine of a brushcutter might have to power through hours of cutting back wooded debris and dense brush, as well as maintaining large areas of grass and weeds.
Kawasaki engines are renowned for their longevity – something that is achieved through selecting quality, long-lasting materials and designing with durability in mind. Our TJ45E HD engine, for instance, has a heavy-duty clutch, made with hard-wearing sintered iron to maximise strength and longevity. Combine this with a chrome plated cylinder and high quality bearings and seals, and you have an engine built for durability.
Power and performance
To tackle longer grass and denser vegetation for extended periods of time, you need a machine with a power level that you can rely on. More power means a quicker cutting head rotation speed, allowing you to cut through thicker vegetation and take on a wider variety of tasks, ultimately boosting your working capabilities. It also impacts the range of tasks you can take on, as a powerful engine can effectively cut through thicker foliage, where another might struggle.
Kawasaki engines, which are designed to the requirements of commercial-level usage, are famously powerful. Our TJ Series can be relied upon to deliver excellence in power and performance, giving you the ability to conquer a challenging workload with ease.
Of our 2-stroke engines, the TJ53E is the most powerful, with 40% greater power than the TJ45E. It's designed for professionals that need that extra push through the toughest brush and terrain.
Our OEM partners
Our OEM partners share the Kawasaki Engines commitment to quality. An engine has to be matched with the right equipment to truly reach the highest level of excellence, which is why we only partner with the most reputable brands.
Brushcutters Powered by Kawasaki can be found from brands like AMA, Atilla, Bluebird Industries, Cobra, Comforex, Dormak, Ergomac, Francepower, Ideal, Jasper, Kuril, Mikawa, MGF, Sport Garden, Torke and Yokoama.
Find out more about brushcutters powered by a Kawasaki engine here.
The professional's choice? Powered by Kawasaki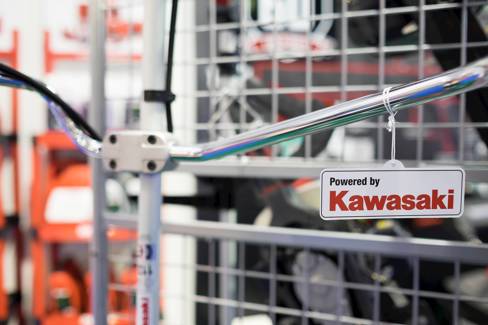 For all the reasons discussed above, a Powered by Kawasaki brushcutter should be high on the wishlist of any busy landscaping professional!
Brushcutters are a brilliant tool for cutting hard to reach areas and tackling overgrown vegetation that a lawnmower simply can't reach. They can handle large areas of brush and vegetation that has grown wildly out of control, overcoming tasks that are beyond the capabilities of a regular grass trimmer – it's hard to imagine a professional's toolkit without one.
Investing in a Powered by Kawasaki brushcutter guarantees you're getting the power, efficiency and longevity a professional needs. To provide the best service, you need the best equipment – and on that score, Kawasaki powered equipment won't let you down.
Need some extra help to decide? Read our buyer's guide to purchasing a commercial brushcutter.