We are proud to power products manufactured by many of the world's leading names in the turfcare, groundscare and industrial markets.
We work closely with OEMs to ensure the optimal performance of our engines in their products, testing extensively prior to fitment.
Our commitment to this process, along with the quality of our engines, means that customers can be confident that Powered by Kawasaki signifies a product they can trust.
And our dedication to reliability doesn't stop there. Every Kawasaki engine sold is supported by:
An extensive Service Network of Authorised Dealers, supported by our training and systems.

Kawasaki Engines Genuine Parts, to keep our engines running to exact design specifications.
A class leading Warranty covering the first years of use, with unlimited hours cover.
Show more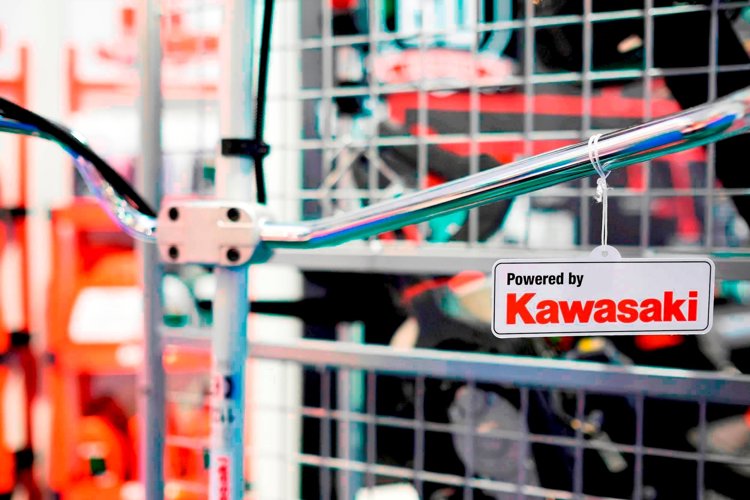 OEM Focus: Spider Slope Mowers
Today the option of remote controlled mowing for hard-to-reach or hazardous terrain is well established. Back at the start of the millennium this was certainly not the case.
Professionals faced with steep inclines simply had to do their best with conventional technology, or at worst employ dangerous practices to ensure hillsides weren't neglected.
That all changed 15 years ago thanks to the vision of Lubomir Dvorak founder of DVORAK – svahove sekacky s.r.o., the Czech company who created Spider mowers. It was Lubomir's invention of the first remote controlled mowers designed to cope with steep slopes and uneven terrain, that introduced a new, and more importantly safer way of working to groundscare professionals.
Since the start of production in 2004 Spider have chosen Kawasaki Engines to power their award-winning professional grade mowers. The Kawasaki FS541V currently powers Spider's original ILD01 model, with Kawasaki's powerful FS691V fitted to the larger ILD02.
Lubomir Dvorak is complimentary about the solution provided by the Kawasaki 4-strokes. "Kawasaki's FS engines are built for durability and reliable performance time after time. This is important for the demanding environments that our Spider mowers are expected to work in", says Lubomir.  "Low fuel consumption and high torque are vital for us, as well as the ability of the engines to perform at steep operating angles. A key feature of our Spiders is that they can mow on inclines of up to 55 degrees. This gives us a market-leading advantage and Kawasaki's pressurised lubrication system allows this to be possible."
Andy Pringle, Product Manager at Kawasaki Engines Europe comments on the relationship with Dvorak that made the Spider mower possible: "We have huge respect for what Lubomir and his team have developed. Not only did they create a pioneering product, but their continual commitment to technical innovation, state-of-the-art design and high quality components means that they have remained at the forefront of their market, and deservedly developed a reputation for one of the most innovative groundscare companies in the world."
Kawasaki are keen to credit the efforts of their Czech Distributor Asko KC s.r.o. in developing the relationship with Spider in the early days. "The team at Asko had a huge part to play in Spider's development at the beginning and in finding the best engine solution for the product" adds Andy Pringle. "Months of testing were carried out by them to ensure that all parties were 100% happy with the engine fitment. It is thanks to the efforts of Asko that we are all working together today."
Show more