How to genuinely minimise downtime and maximise productivity when using a Kawasaki-powered mower
19 Apr 2021
4 Stroke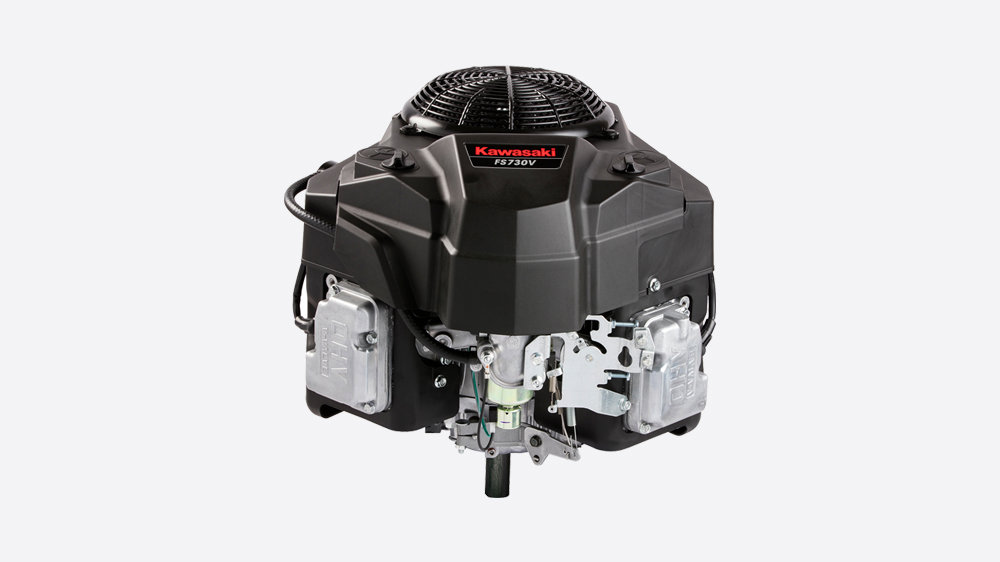 Spring signals the start of the busiest period for your machines and Kawasaki has some top tips for minimising downtime and maximising productivity.
Coming out of winter storage and into the growing season, your machines will need to be functioning to their full capabilities. Martin Cook, Parts and Technical Manager at Kawasaki Engines, highlights key maintenance tasks to make sure your engine and machines perform at their absolute best this season.
First and foremost, remove the spark plugs and check the gap. Oil on a spark plug could be a sign of low compression. Don't be tempted to clean the carbon deposits off the spark plugs, this can cause more problems than it's worth for the price of a new spark plug. It is very important to get this right as misfiring or poor performing plugs can put stress on the engine.
The importance of performing overall checks on your machines cannot be underestimated and some have to be done more frequently than others. Engine oil level, loose or lost nuts and screws, fuel and oil leakage, battery electrolyte level and checking for a clear air intake screen are best done daily. Make sure you clean the air cleaner foam element every 25 hours and the spark plugs and air cleaner paper element every 100 hours or in preparation for Spring, whichever comes first.
While most of the checking and cleaning can be done by a workshop technician or competent landscaper, greenkeeper or groundsperson, there are some checks best performed by an authorised Kawasaki Engines Dealer. For example, changing engine oil and filter, cleaning the cylinder head fins and checking and adjusting the valve clearance.
If you didn't drain the tank before storing the machine for winter, you are going to need to check the tank is clear of any water or debris. Ethanol attracts water and the engine could misfire if there is water in it. This should be easy enough to do as most engines have plastic, see-through tanks and the water will be sitting at the bottom. If in doubt, drain and refill.
Most ride-on mowers will have two oil reservoirs, one for hydrostatic oil and one for engine oil. Always check you are using the correct one when topping up. Some hydrostatic drives use the same oil as the engine. For those please check your machine's operating manual.
One of the most important things you can do for the overall performance of your machine is to make sure the blades are sharp and balanced. All other aspects of the mower's maintenance can be perfect, but if the blades are dull your engine has to work that much harder to deliver, and that has repercussions on the longevity of the engine's life and fuel economy, as well as leading to recutting, affecting productivity.
One easy way to maintain your Kawasaki Engine's reliability is by using only Kawasaki Genuine Parts. This can make all the difference between a reliable machine and one that is not. Using non-genuine parts means your machine is less likely to operate as productively or efficiently as it should. When you choose Kawasaki Genuine Parts you are assured of quality, reliability and compliance with original equipment specifications.
Most oil filters look the same on the outside, but inside a Kawasaki filter, a slotted alloy tube protects oil flow. A pressure-activate bypass valve prevents cold-start wear and maintains flow in case of blockages. Silicone valves, rubber seals and a heavy canister stand up to high temperatures and severe use. Kawasaki build provides a different level of engine protection, one you can count on.
Similarly, with Kawasaki air and oil filters, these are specifically designed with permeability that matches flow rates, operating pressures and temperatures of your Kawasaki engine – and most importantly, they fit exactly.
With machines heading into their busiest period, make sure you're preparing them for peak performance. Time spent on routine preventative measures now, will mean any downtime is kept to a minimum and productivity at a maximum.